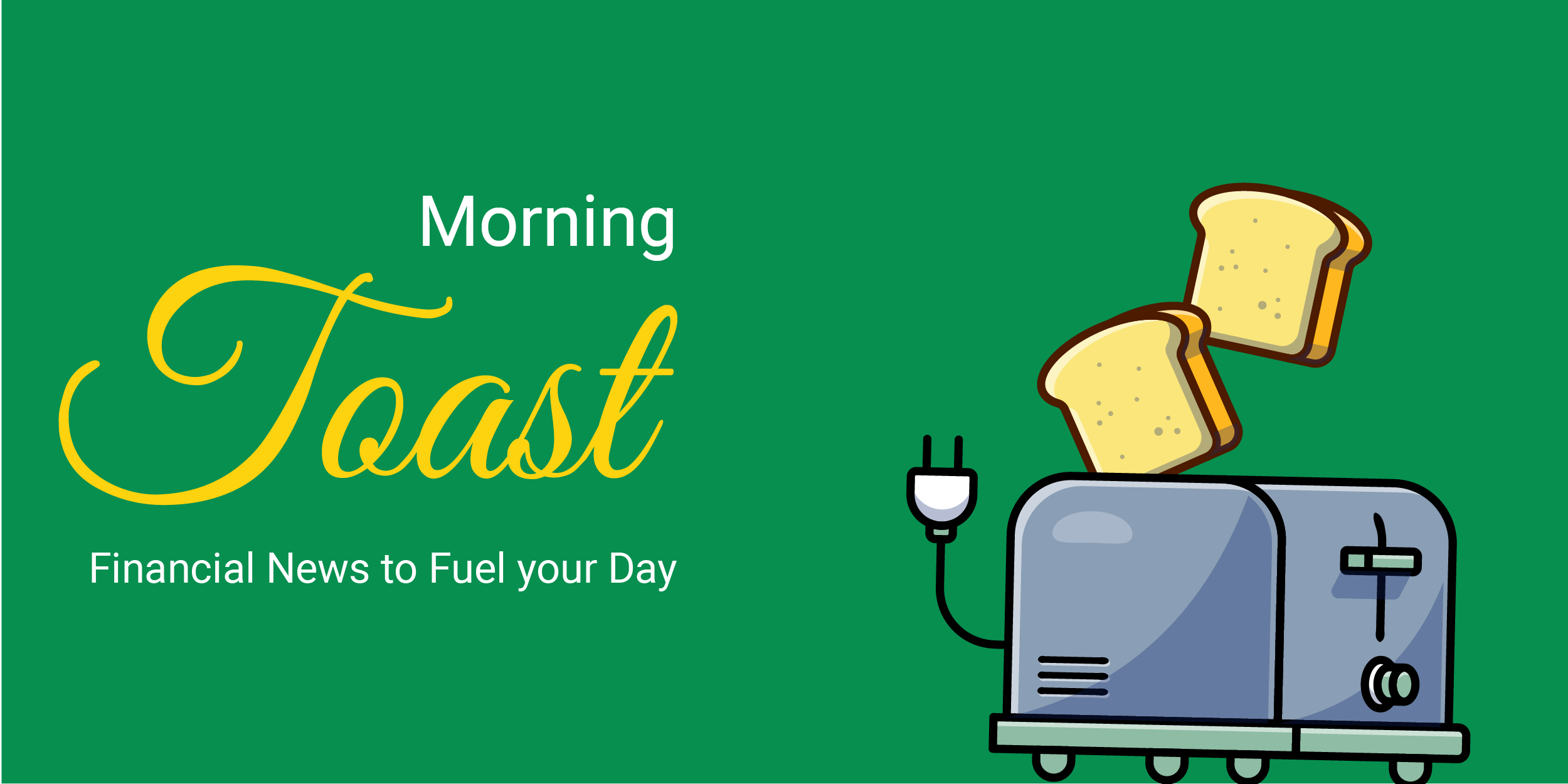 US Fed Signals Sooner Than Anticipated Rate Hikes
FinLearn Academy
Yesterday's Market Performance

Nifty: 17,166.90 | +183.70 (+1.08%)
FII Net Sold: INR 2,765.84 crore
Sensex:  57,684.79 | +619.92 (+1.09%)
DII Net Bought: INR 3,467.02 crore
---
Howdy Toasters!
In today's issue of the Morning Toast, we discuss: 
GDP is recovering (with services leading)
PowerGrid primed for its next rally?
An education concept to keep you chugging along
---

GDP is recovering (with services leading); what's up and what do you need to know? 🧐
GDP growth for the last quarter stood at a whopping 8.4% (Nominal GDP grew 17.5%)  on the back of substantial improvement in sectors + a healthy vaccination pace

Main contributions were from services (esp the contact-sensitive, growing at 8.6%) financial, real estate, and government spending (grew at 8.7%)

Future government spending is likely to be in the form of transfer and subsidy payments
Specifics?
Health services grew at ~ 10% – led by hotels, travel, and transport, while retail growth seems to be back to pre-pandemic levels

Financial & Real Estate growth saw strong growth (7.2%) indicating  recovery informal sector employment and low-interest rates

The industry as a whole grew by 6.9% (led by manufacturing) in spite of high input costs and supply shortages; agriculture economy grew by 4.5%
Global cues? What's US Fed chairman Powell saying?  🤔
In the first instance since the start of the pandemic, the world's largest economy has decided to change tract – US Fed Chairman Powell indicated to Congress that he has dropped the prefix transitory from inflation

With such an acknowledgment, the Fed now believes inflation is no longer bound by Supply-side bottlenecks, with commensurate action required to amend high prices (& more)

Mr. Powell indicated the need to discuss opening the doors to an earlier than an expected tapering program – effectively signaling sooner than anticipated rate hikes

The market had priced in (we believe) at least two percentage point hikes in 2022, with a third in December; however, these projections are up for discussion at the next Fed meeting (in December)
Got it, so what next? 🤩
From an India perspective, the outlook looks good overall with better-adapted firms, stable financial conditions, and good global growth; A material rise in discretionary spending is also expected
Uncertainties from Omicron linger which can have effects on the supply chain, savings, gov spending, etc.
Exports & government CAPEX will need to create a growth bridge for private investment and consumption recovery
With the US Fed signaling the start of a tapering program, all eyes would now be on the December meeting, which will outline a path and most likely gives cues to Emerging Market Economies (like India) on the next steps
Keep a track for commentary from US Fed Meeting in December
---
Like our news coverages?😍 Become a part of our fam, subscribe to our newsletter. Subscribe here
---

PowerGrid primed for its next rally? 📉
Analysing PowerGrid on a daily time frame, indicates that the stock has been in a constant uptrend (see image below)

The stock has been breaking earlier highs and making new ones (HH) over 2021 while taking support at a rising trend (thus making higher lows)

Powergrid, after making an all-time high (30 trading sessions ago) is trading close to the resistance band (206-209), with chances of a breakout higher due to the steady uptrend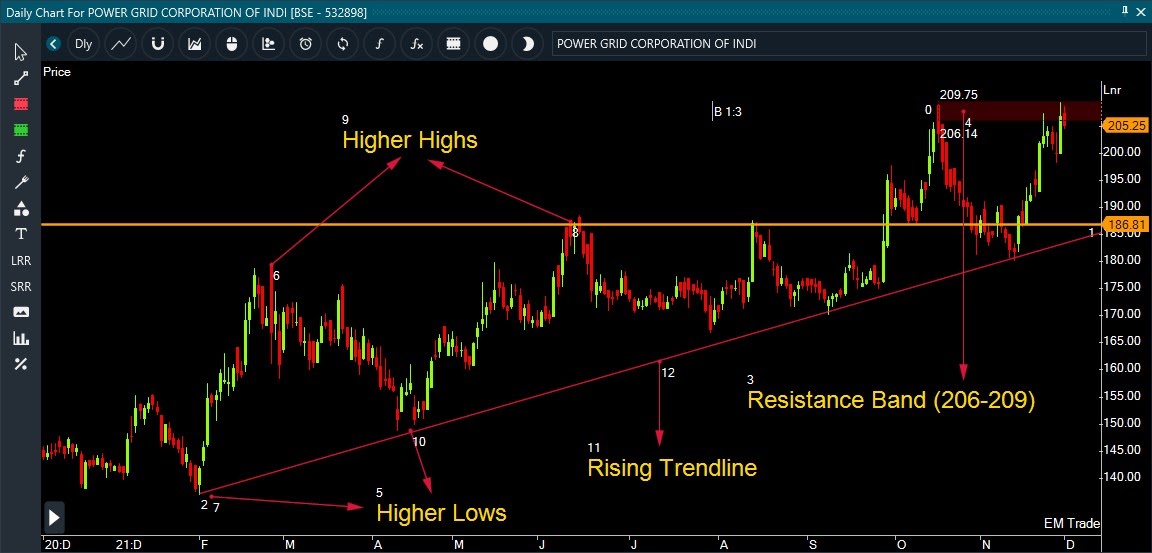 Great! Second confirmations? Any other tools? 😏
Looking at the chart on a daily time frame, prices have been taking support along the 50-day SMA (simple moving average) which resulted in an up move close to all-time-highs

Currently, prices are making an inside bar, these are short breaks taken by stocks before continuing their ongoing trend (uptrend in this case)

If prices give closing above 209, (a breakout above the inside bar and resistance band) the stock might lead to a good up move.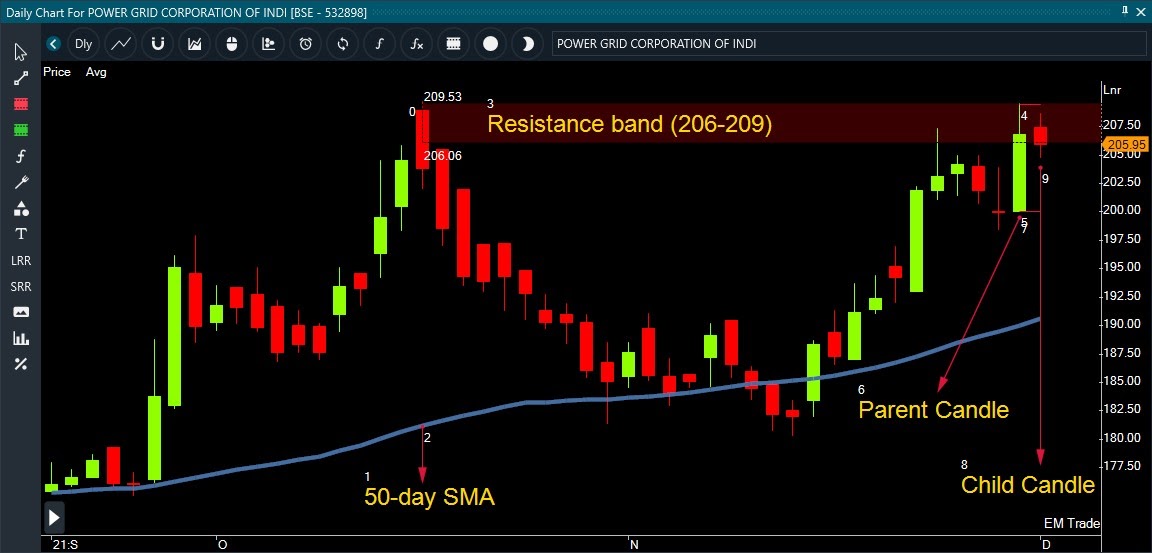 Interesting! How do I enter / exit such a setup? 🤩
Going long would be the ideal trade in this case after prices give closing above 209 (as mentioned above). To avoid any traps (bull trap in this case) you should wait for a retest, which is defined as prices taking support at the breakout level

Stop-loss should be in place along the 50-day SMA (trailing stop-loss) and a target as per your RR ratio (2 or more) needs to be set
Interesting! Final thoughts? 🤑
The consistent higher high higher low (HH HL) patterns indicate that the stock has been in a steady uptrend
On a daily time frame, making an inside bar pattern increase the chances of a breakout above the resistance band
We started with overall price action and trend analysis and took second confirmation on moving averages and retests, safeguarding us against possible traps
Keep a track?
---
What else caught our eye? 👀
November GST revenues are confirming the good news 
Gross GST revenues came in at Rs 1,31,526 crore for the month of November
They are 25% higher than Nov of last year, and the second highest ever since the introduction of GST
The government has said that collections are in line with the broader trend in economic recovery
Nykaa wants to go big
Nykaa wants to triple its brick and mortar store to over 300 locations with a target of 100 cities
There is no official timeline for the same – but they strongly feel that physical stores are a critical part of the business
It is also looking to ramp up exports of its private brands to the UK and the Middle East
Fed to go back on their word 
The US Federal Reserve might finish its asset tapering programme earlier than expected as inflation proves to be more persistent than forecasted

The current timeline of completion was mid-2022, but policymakers' meeting next week may alter the same

U.S. stocks extended losses as a reaction to his comment while yields on 10-year U.S. Treasuries pared their decline
---

Harmonic Patterns:
Harmonic patterns are chart patterns that form part of a trading strategy – and they can help traders to spot pricing trends by predicting future market movements. They create geometric price patterns by using Fibonacci numbers to identify potential price changes or trend reversals.
Previous
November 30, 2021
---