Build your knowledge base by learning the basics of trading and investing
Start from the basics, getting an in-depth understanding of key Price Action concepts & bespoke Technical Analysis tools like Moving Averages, Fibonacci & Bollinger Bands
Round it up with detailed sessions on Options Trading, including Greeks, Theta, Gamma & popular strategies
Liquidity in trading is key - you don't want to be stuck in positions you can't exit— learn to take trades in the most liquid names, across Nifty50 & Bank Nifty, our headline Indices
Directional & Non-Directional Trading through bespoke Options trading strategies, are thoroughly executed across Nifty50 & Bank Nifty - learn the process
Options are tricky, yet the rewards are disproportionately in your favour if executed conscientiously
Use Price Action & Technical Analysis tools to shortlist scripts across sectors, MCAPs & indices
Your trades are only as good as your execution skills - get that combination right
Program Highlights
One-on-One instructor support
70 hours of Live Sessions
Real-time stock setups
Access for 1-year
Self-Assessment Tests to build confidence
Downloadable resources
Access to our exclusive trading community
Program Content
1.

Introduction To Price Action

1.1.

Types of charts and time frame: Line Chart – Bar Chart & Candle Chart

1.2.

Styles Of Trading –High Frequency Trading, Day Trading, Swing Trading

1.3.

Basics of candlestick charts: Candle Construction: Shape and Size

1.4.

Single Candle Formation: Bullish & Bearish Single Candle Formation

1.5.

Price Action: Horizontal line, Trend Line, Role Reversal, Bull & Bear Trap

1.6.

Support and Resistance Band: Where To Buy And Where To Sell

1.7.

Support and Resistance Band with multiple time frame: Cluster Support and Resistance Ban Study

1.8.

Trends: Uptrend: Identifying sequence of higher lows and higher highs

1.9.

Trends: Downtrend: Identifying sequence of lower highs and lower lows

1.10.

Trend: Sideways: Prices trading within defined high and low
2.

Intermediate Study Of Technical Analysis

2.1.

Trends and Corrective price action: Primary and secondary price movement

2.2.

Trends and Impulse price action: Dominant price direction

2.3.

Anticipatory trend analysis: Reversals based on higher time frame trend analysis

2.4.

Fibonacci Studies: Retracement and Extention: Measuring techniques for trade decision

2.5.

Trend and Location: Where to initiate trades both long and short and profit taking

2.6.

Moving Averages: Construction and Interpretation

2.7.

Double Moving average and Multiple Moving average: Measure of momentum

2.8.

Bollinger Bands and band trading system: Overbought –oversold and trend identification

2.9.

Trends and multiple time frame analysis: Knowing the big picture

2.10.

Understanding Indicators RSI, Stochastic and MACD: Overbought –oversold-entry –exit
3.

Advanced Technical Analysis

3.1.

Advanced candle Stick –Double and Triple Candle Formation

3.2.

Platform Immersion: EmTrade

3.3.

EM ProTrade: Proprietary Trading System

3.4.

Trend Trading System Combining price action – moving average and RSI

3.5.

Moving average trading system: Crossover of multiple moving average for trade initiation and average band study for overbought and oversold readings

3.6.

Advanced Moving average trading system

3.7.

High frequency trading with Moving averages an EM ProTrade Indicator & 5 mma

3.8.

Day trading with Moving averages an EM ProTrade Indicator

3.9.

Swing Trading with Moving averages an EM ProTrade Indicator

3.10.

Multiple Time Frame Analysis with EM ProTrade Indicator
4.

Decoding Options & Its Strategies

4.1.

Intrinsic Vale + Time Value

4.2.

Options Greek – Delta

4.3.

Options Greek – Gamma

4.4.

Options Greek – Vega

4.5.

Options Greek – Theta

4.6.

Detailed understanding and application of Black & Scholes Calculator

4.7.

Implied Volatility and Historical Volatility

4.8.

Understanding VIX Index Understanding Options Chain and Put Call Ratio (PCR)

4.9.

Margin requirement and risk

4.10.

Moneyness (ATM –OTM -ITM)
5.

Decoding Options & Its Strategies

5.1.

Non Directional Strategies

5.1.1.

Long Straddle/ Strangle

5.1.2.

Short strangle + Long butterfly Spread

5.1.3.

Covered Call and Condor

5.2.

Directional Strategies

5.2.1.

Long Calls and Long Puts

5.2.2.

Bull Call Spread and Bear Spread Put

5.3.

Non Directional Strategies + Directional Strategies Revision

5.4.

5Trade Plan for High Frequency Trading

5.5.

Trade Plan for Swing Trading

5.6.

Journal and record keeping
In our endeavour to ensure that your learning is as application-focused as possible, we have designed a variety of live market webinars to bridge the gap from the textbook and build your confidence to independently take trades.
Via the following webinars, we aim to build your knowledge for a range of scenarios -
Conducted every Friday, this series is designed to ensure you're able to apply theoretical concepts successfully. These sessions are used to solve doubts, case studies and fine-tune your learnings, with focus on Nifty / Bank Nifty
Given the global nature of Nifty / Bank Nifty, taking direction and analysing the major global indices is key for a trader. These sessions are conducted once every two weeks, allowing you to take direction and prepare for the coming week.
conducted on Tuesdays & Thursdays, as the name suggests, it's all about hand-holding and ensuring you're best prepared to trade independently.
Topics covered include-
Current Market Analysis of Nifty, Nifty Bank, Stock – Future & Options
Real-life example of a script showing
Where to Buy. Where to Go Short
How to set target & stop loss
Trade Plan
Option Strategies
Understating The Risk
Combining Technical & Options for trade setup
Program Schedule
| | | | |
| --- | --- | --- | --- |
| Course Name | Start Date | End Date | Trainer Name |
| Introduction To Price Action | 2022-05-31 | 2022-06-13 | Kapil Shah |
| Intermediate Study Of Technical Analysis | 2022-06-14 | 2022-06-27 | Kapil Shah |
| Advanced Technical Analysis | 2022-06-28 | 2022-07-04 | Pratik Sawant |
| Decoding Options & Its Strategies | 2022-07-05 | 2022-07-11 | Sharad Prabhu |
| Decoding Options & Its Strategies | 2022-07-12 | 2022-07-18 | Sharad Prabhu |
Pick Your Date
Smart Index Trader Programme
Live + Recorded
Full 1 Year Access with 1 on 1 Insructor Support
35,400 (all inclusive)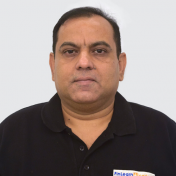 An industry veteran with over two and half decades of experience, Hitesh has had a successful career as a Technical Analyst & Market Strategist across top tier firms, across Retail and institutional broking, including Citi Investment Research & Global Markets, Centrum Broking, ShareKhan and Motilal Oswal. Having developed in-depth product expertise, Hitesh has effectively developed courses in the domain of Trading & Investing across multiple delivery platforms. He is the Head of Education at FinLearn Academy since inception.
Course Requirements
This course is designed for beginners of the stock market as well as the people who wish to master their strategies.
Why should you take this course?
You gotta beat Inflation right? Fixed Deposits & Debt Products are currently giving sub-6% returns
Nifty and Bank Nifty have given 118% and 105% returns respectively in the last 5 years; Don't you want to partake in that journey?
Start your journey today and generate passive income on a daily basis.
Not sure of the course yet? Take our weekly pass and try our lectures for a week.
What our grads say about this course
What our grads have to say about us!
In today's session, I've learned how to trade band Bollinger squeeze break out and I captured almost 70 points in Mindtree. thank to Prateek sir & the FinLearn team
The most important approach we've learned at FinLearn Academy: Top down approach
1. Watch Global markets
2. Watch SGX nifty
3. Watch sector index and study those chart
Jab Nifty isse upar trade Kar ratha to maine ye point se market ka fall calculation kiya tha. Aur fir Nifty 15828.5 se 15721.5 per close hua. Means 107 points points ki fall. Maine iss formula ko FinLearn se sikha hai or fir khud ki ek formula build kiya hai. Accha profit book hua mujhe. Thanks to FinLearn Academy.
Thanks to FinLearn Academy as well as all the mentors for the assessment. It is helping to boost my confidence.
Frequently asked questions