Options Trading & Writing
An introductory course on options trading for beginners.
Learn the option trading basics and key strategies to trade options effectively.
Live interactive sessions & recorded videos with real-market scenarios and various case studies.
Complete access to our exclusive trading software with the addition to the Finlearn community for more exposure.
Created by FinLearn Academy
English and Hindi
Last Updated 25-02-2021
Overview
Options trading & strategies have taken prominence in the recent past, accentuated by the regulator's decision to massively decrease entry costs and discount brokers making it very simple to access. That being said, complication levels are high in Options Trading, and thorough knowledge is a must before one enters such specialized products. The idea is to build your knowledge from scratch, both at an education level and education-wise.
What will you learn?
Understand options and how options work.
Learn the foundation of options trading.
Learn the differences between calls and puts
Learn the difference between buying options and selling options
Learn how to trade calls and puts effectively
Understand and use the most important rules in options trading
Learn the basics of trading verticals, the Almighty of option trading
And many more..
Benefits
You will get an introduction to the world of options
You will get an understanding of some key strategies that are commonly used
You'll get practical knowledge of the market through our interactive live sessions and various recorded videos.
You'll get a certificate of completion.
Requirements
No requirements, course Is taught from the basics
Options trading is ideally suited for-
Participants with ability to give ~2-4 hours of time to trading each day
Easy access to Trading & Charting Platform during the day
Trading & Analytics Platform
As a part of the course, and in order to aid your learning experience, we have developed a
comprehensive Trading & Analytics platform, EmTrade. This platform is provided as part of the course.
Some key features include :
Intraday Strategies
Swing/ Positional Strategies
Real-Time Data
Extensive Oscillators Library
Options Strategies
Extensive Company Financials
Global Indices
You can click on the link below to preview the platform and explore some of the features.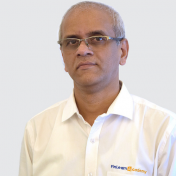 Sharad is a banking industry veteran with 2 decades of work experience in reputed organizations like HSBC, Barclays Bank Plc, Standard Chartered and ANZ Grindlays. He became a full-time professional trader and investor in the stock market from 2010 and delivers stock trading courses at Finlearn on charts, price travel, forecasting long-term and short-term market conditions based on Fibonacci pattern, Strategy building using indicators with multiple timeframes among others.
Certificate
Create test for knowledge testing purpose
Post Completion of course, what should I do next?
Practice is key in building your confidence, and for that the following will be beneficial
Practice Concepts in Live Market Environments through webinar series (mentioned above)
Identify your preferred trading style by attending the webinar series and / or deciding time commitment you're ready to make towards trading (in a week);
Take paper trades to test knowledge and clarify doubts; run them by our instructors to fine tune your thought process, under our Live Trading Labs Webinar series
Leverage the power of technology and increase your familiarity to a Trading & Analytics platform
Once you have a level of confidence and familiarity, as a next step you should open a demat & trading account, apply the knowledge learned and most importantly, make money $$
Trading Partner
You can open a Demat & trading account with our Trading Partner, Emkay Global Financial Services.
Number of Hours: – 37 Videos / hours video time
Number of Hours of effort needed: – 30 hours of effort needed
Study Material that is shared- description: – PDF on Concepts Discussed
Tests that are provided: – Self Assessment Tests
Certification: – Certification Test
Case Studies: – 5
Duration Access: – 1 Year
Live Market Webinar Access: – 3