Build your knowledge of Intraday trading by learning the basic and advanced charting tool patterns
Learn various technical analysis strategies like Moving Averages and Fibonacci Retracements and develop an in-depth understanding of how to plan your trades in a risk-averse manner
Learn multiple technical indicators thoroughly to develop your own trading strategies and theories
Get 5-15 minute time frame trades basis proprietary Moving Average Strategies
Build your trade setup using tested Top-Down Approach (Global, Local & Sectoral Indices)
Learn how to select the best time frames for your day trading setups.
Learn to use intraday scalping techniques and how to capitalize on the price differences in the day market
Arrive at profitable set-ups by learning the psychology of price/volume spikes and drops while keeping your risk appetite in check.
Program Highlights
One-on-One instructor support
72 hours of Live market webinars
20 real-time setups
Access for 6 months
Self-Assessment Tests to build confidence
Downloadable resources
Access to our exclusive trading community
EmTrade Pro Access
Learn the psychology of price spikes and drops
Analyze Technical charts effectively
Build Strong foundation for stocks/options/forex & Crypto
Learn how to trade the opening hour
Profitable day trading setups and hacks
Program Schedule
| Date | Day | Time |
| --- | --- | --- |
| 03-10-22 | Mon | 09 AM to 10 AM |
| 07-10-22 | Fri | 09 AM to 10 AM |
| 10-10-22 | Mon | 09 AM to 10 AM |
| 12-10-22 | Wed | 09 AM to 10 AM |
| 14-10-22 | Fri | 09 AM to 10 AM |
| 17-10-22 | Mon | 09 AM to 10 AM |
| 19-10-22 | Wed | 09 AM to 10 AM |
| 21-10-22 | Fri | 09 AM to 10 AM |
| 28-10-22 | Fri | 09 AM to 10 AM |
1 Month
12 Live Webinars along with all the content
7,000/-
3 Months
36 Live Webinars along with all the content
15,000/-
6 Months
72 Live Webinars along with all the content
30,000/-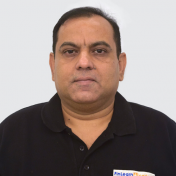 An industry veteran with over two and half decades of experience, Hitesh has had a successful career as a Technical Analyst & Market Strategist across top-tier firms, across Retail and institutional broking, including Citi Investment Research & Global Markets, Centrum Broking, ShareKhan, and Motilal Oswal. Having developed in-depth product expertise, Hitesh has effectively developed courses in the domain of Trading & Investing across multiple delivery platforms. He is the Head of Education at FinLearn Academy since its inception.
Course Requirments
Basic understanding of technical analysis
Basic understanding of stock market terminology
Exposure to trading and charting platforms
Why should you attend this course?
You gotta beat Inflation right? Fixed Deposits & Debt Products aren't are currently giving sub-6% returns
Nifty and Bank Nifty have given 118% and 105% returns respectively in the last 5 years; Don't you want to partake in that journey?
Start your journey today and generate passive income on a daily basis.
Not sure of the course yet? Take our weekly pass and try our lectures for a week.
What our grads say about this course
What our grads have to say about us!
In today's session, I've learned how to trade band Bollinger squeeze break out and I captured almost 70 points in Mindtree. thank to Prateek sir & the FinLearn team
The most important approach we've learned at FinLearn Academy: Top down approach
1. Watch Global markets
2. Watch SGX nifty
3. Watch sector index and study those chart
Jab Nifty isse upar trade Kar ratha to maine ye point se market ka fall calculation kiya tha. Aur fir Nifty 15828.5 se 15721.5 per close hua. Means 107 points points ki fall. Maine iss formula ko FinLearn se sikha hai or fir khud ki ek formula build kiya hai. Accha profit book hua mujhe. Thanks to FinLearn Academy.
Thanks to FinLearn Academy as well as all the mentors for the assessment. It is helping to boost my confidence.
Earned 1% in ICICI Bank on the reversal from 15min Bollinger Band. Thanks to all our mentors of FinLearn Academy.
Frequently asked questions