Intermediate Study of Technical Analysis (Equity)
A comprehensive and detailed Technical Analysis course.
Understand the advanced technical analysis techniques for analyzing market trends, volatility, momentum & volume.
50+ hours of live interactive sessions & various recorded videos with real-market scenarios and various case studies.
Complete access to our exclusive trading software, and access to FinLearn's stock market community for more exposure.
Created by FinLearn Academy
English and Hindi
No. of Enrollments:- 900
35,400 /-
(All Inclusive)
Overview
Technical Analysis is a way of identifying trading opportunities by analyzing statistical trends from trading activity, such as price data, volume, and other such parameters. This Technical Analysis course can be used on any underlying security, with price history. In this Technical Analysis course, you will get a detailed understanding of technical analysis to read the technical chart patterns and identify the trend in the stock market. This technical analysis course covers advanced technical analysis strategies, technical analysis indicators, oscillators, and risk management strategies to save your capital. In this Technical Analysis course, you'll combine your learnings with the application-based live webinars so that you successfully apply the knowledge gained and upskill to achieve your goals.
What will you learn?
Master technical analysis indicators, oscillators, chart patterns & candlestick patterns with real-world examples.
How to build a strong technical analysis foundation for stock, options, forex & crypto trading.
How to Trade Double Top + Double Bottom
How to Trade Single Candlestick Patterns
How to Read Stock Charts Effectively to Identify Market Trends
How to Trade Fibonacci & Fibonacci Extensions
How to Trade Moving Average Convergence Divergence (MACD)
Dedicated Support from the Course Instructors and the Learning Community. 100% Questions Answered Within 24 Hours!
And many more..
Benefits
You will gain a deeper understanding of technical analysis and its advanced techniques to make profitable decisions.
You will be able to successfully apply technical indicators on a charting & trading platform.
You'll be able to identify technical patterns, technical charts, trends, signals, and indicators that drive the behavior of price.
You'll get practical knowledge of the market through our interactive live sessions and various recorded videos.
You'll get a certificate of completion.
Requirements
No requirements, as this course is taught from the basics
Quizzes/Trivia
Take a sample quiz on Technical Analysis and you may just get a trade to track. Enjoy!

1.1

Types of charts and time frame: Line Chart – Bar Chart & Candle Chart

1.2

Styles Of Trading –High Frequency Trading, Day Trading, Swing Trading

1.3

Basics of candlestick charts: Candle Construction: Shape and Size

1.4

Single Candle Formation: Bullish & Bearish Single Candle Formation

1.5

Price Action: Horizontal line, Trend Line, Role Reversal, Bull & Bear Trap

1.6

Support and Resistance Band: Where To Buy And Where To Sell

1.7

Support and Resistance Band with multiple time frame: Cluster Support and Resistance Ban Study

1.8

Trends: Uptrend: Identifying sequence of higher lows and higher highs

1.9

Trends: Downtrend: Identifying sequence of lower highs and lower lows

1.10

Trend: Sideways: Prices trading within defined high and low
2.1

Trends and Corrective price action: Primary and secondary price movement

2.2

Trends and Impulse price action: Dominant price direction

2.3

Anticipatory trend analysis: Reversals based on higher time frame trend analysis

2.4

Fibonacci Studies: Retracement and Extention: Measuring techniques for trade decision

2.5

Trend and Location: Where to initiate trades both long and short and profit taking

2.6

Moving Averages: Construction and Interpretation

2.7

Double Moving average and Multiple Moving average: Measure of momentum

2.8

Bollinger Bands and band trading system: Overbought –oversold and trend identification

2.9

Trends and multiple time frame analysis: Knowing the big picture

2.10

Understanding Indicators RSI, Stochastic and MACD: Overbought –oversold-entry –exit
3.1

Advanced candle Stick –Double and Triple Candle Formation

3.2

Platform Immersion: EmTrade

3.3

EM ProTrade: Proprietary Trading System

3.4

Trend Trading System Combining price action – moving average and RSI

3.5

Moving average trading system: Crossover of multiple moving average for trade initiation and average band study for overbought and oversold readings

3.6

Advanced Moving average trading system

3.7

High frequency trading with Moving averages an EM ProTrade Indicator 5 mma

3.8

Day trading with Moving averages an EM ProTrade Indicator

3.9

Swing Trading with Moving averages an EM ProTrade Indicator

3.10

Multiple Time Frame Analysis with EM ProTrade Indicator
In our endeavour to ensure that your learning is as application-focused as possible, we have designed a variety of live market webinars to bridge the gap from the textbook and build your confidence to independently take trades.
Via the following webinars, we aim to build your knowledge for a range of scenarios -
Conducted every Friday, this series is designed to ensure you're able to apply theoretical concepts successfully. These sessions are used to solve doubts, case studies and fine-tune your learnings, with focus on Nifty / Bank Nifty
Given the global nature of Nifty / Bank Nifty, taking direction and analysing the major global indices is key for a trader. These sessions are conducted once every two weeks, allowing you to take direction and prepare for the coming week.
conducted on Tuesdays & Thursdays, as the name suggests, it's all about hand-holding and ensuring you're best prepared to trade independently.
Topics covered include-
Current Market Analysis of Nifty, Nifty Bank, Stock – Future & Options
Real-life example of a script showing
Where to Buy. Where to Go Short
How to set target & stop loss
Trade Plan
Option Strategies
Understating The Risk
Combining Technical & Options for trade setup
Trading & Analytics Platform
As a part of the course, and in order to aid your learning experience, we have developed a
comprehensive Trading & Analytics platform, EmTrade. This platform is provided as part of the course.
Some key features include :
Intraday Strategies
Swing/ Positional Strategies
Real-Time Data
Extensive Oscillators Library
Options Strategies
Extensive Company Financials
Global Indices
You can click on the link below to preview the platform and explore some of the features.
Why FinLearn Academy
FinLearn Academy provides vastly researched and in-depth trading and investing courses, in partnership with NSE, across all asset classes- Stocks, Futures, Options, Commodities & Currencies. FinLearn Academy is creating an immense financial learning opportunity for people who want to excel in the trading and investing field. All of the stock market trading and investing courses are designed and delivered in a customized fashion to suit the needs of every individual trader so you can upskill your knowledge according to your pace and achieve your financial goals.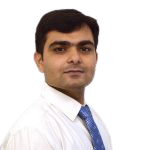 A reputed professional, Kapil has amassed a decade's experience across multiple roles in Sell-Side firms including ICICI Securities, ShareKhan, IDBI Capital and Choice Broking. A highly sought after Technical Analyst, Kapil has successfully combined his skills in designing and delivering Investing & Trading courses across delivery platforms. A resident Technical Analyst at Emkay Global, Kapil divides his time, conducting online courses at the FinLearn Academy and advising clients.
Certificate
– create test for student to test knowledge
Post Completion of course, what should I do next?
Practice is key in building your confidence, and for that the following will be beneficial
Practice Concepts in Live Market Environments through webinar series (mentioned above)
Identify your preferred trading style by attending the webinar series and / or deciding
time commitmentyou're ready to make towards trading (in a week)
Take paper trades to test knowledge and clarify doubts; run them by our instructors to fine tune yourthought process, under our Live Trading Labs Webinar series
Leverage the power of technology and increase your familiarity to a Trading &
Analytics platform
Once you have a level of confidence and familiarity, as a next step you should open a demat
& trading account, apply the knowledge learned and most importantly,make money $$
Trading Partner
You can open a Demat & trading account with our Trading Partner, Emkay Global Financial Services.
50 Hours Live Delivery
70 hours of effort needed
PDF on Concepts Discussed
Self Assessment Tests
Certification Test
Real-Time Stock Set-Ups
Duration Access:- 1 Year
Live Market Webinar Access:- (16 hours Per Month)
EmTrade Access:- 6 Months
Access to WhatsApp & Telegram Channels
Access to weekly Market Analysis:- Nifty50 & Bank Nifty