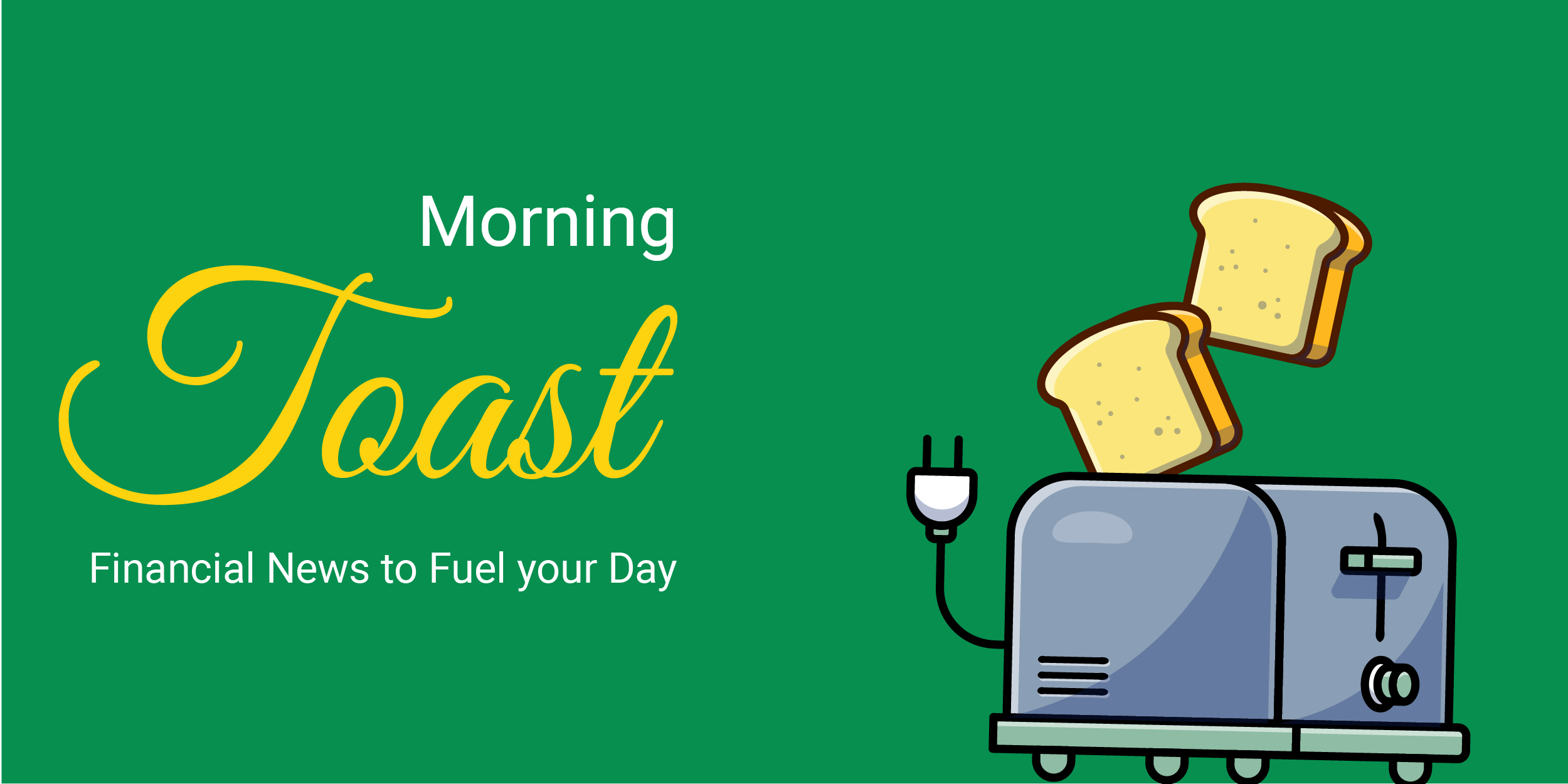 Anand Rathi Wealth IPO oversubscribed 3.0x
FinLearn Academy
Yesterday's Market Performance

Nifty: 17,196.70 | -204.95 (-1.18%)
FII Net Sold: INR 3,356.17 crore
Sensex:  57,696.46 | -764.83 (-1.37%)
DII Net Bought: INR 1,648.79 crore
---
Howdy Toasters!
In today's issue of the Morning Toast, we discuss:
Anand Rathi Wealth Limited (ARWL) accesses the market
Sony and Zee are culminating their rocky relationship
An education concept to keep you chugging along
---

Anand Rathi Wealth Limited (ARWL) accesses the market: What's up and What do you need to know? 🧐
Company Overview 
ARWL is categorised as one of the three largest non-bank mutual fund distributors in the country by gross commissions earned in fiscal 2019, 2020 & 2021, achieved by focusing primarily on the High Networth Individual (HNI) segment (more on this below)

The company is classified as a Private Wealth (PW) advisor with Assets under Management (AUMs) of INR 294.7 Bn, mainly composed of mutual fund schemes and other financial products such as bonds and market linked debentures (MLDs)

With a presence in 11 cities (Metros + Tier 2), the company is registered as a distributor with the Association of Mutual Funds (AMFI), selling mutual fund schemes managed by AMCs & earning trail income commissions

In addition the PW vertical, the company has developed two 'new-age' technology subsidiaries –

Digital Wealth – fintech extension that is addressing the mass affluent segment of the market with a wealth solution delivered through the phygital (physical + digital) channel

Omni Financial Advisors (OFA)- strategic extension for capturing the wealth management industry landscape by providing a tech platform for Independent Financial Advisors (IFAs) to service their clients
Interesting! Product Solutions, Target Market? (You know the drill :PP) 🤔
TG
PW vertical focuses on HNI customers (see image below) with AUM potential of INR 50 – 500 Mn; the company typically on-boarding clients with a relationship value of minimum INR 5 Mn
Active client base stood at 6,564 clients, with ~55% having been associated with company for >3 years (longer term stickiness, attained through consistent returns)
Product Portfolio & Solutions –
Simplicity is key – the company follows a process driven approach in providing wealth solutions, with its model portfolio consisting of an optimal combination of mutual funds & MLDs (greater liquidity, lower risk to capital, with MLDs providing a hedge against MF positions)

MLDs are a big part for the company, and are extremely popular with clients, with ~78% of MLD sales in last three years obtained via repeat purchases by existing clients

In addition to core market linked services, the company has formed engagement specific solutions including estate planning, wills creation & succession planning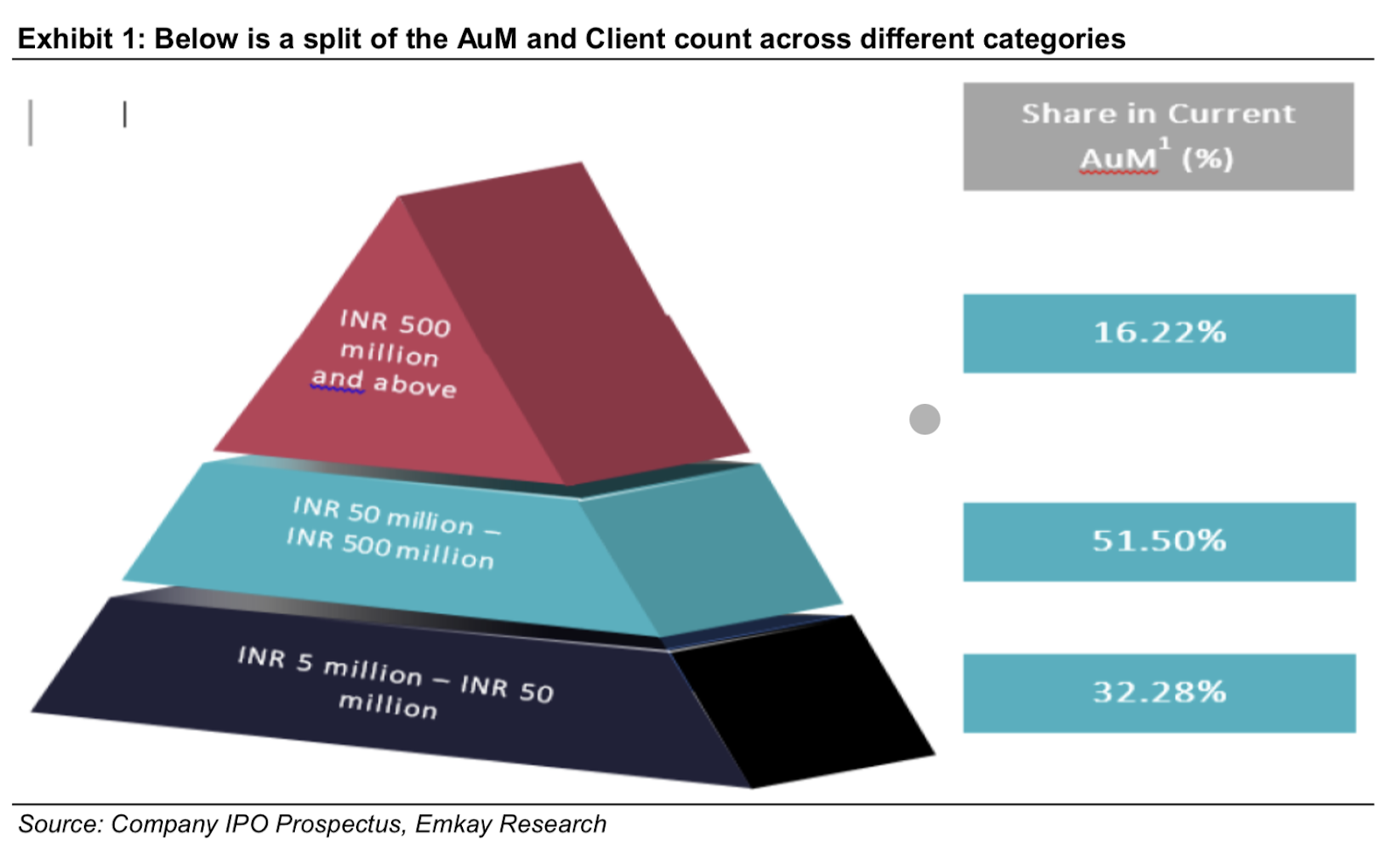 Nice! IPO Details? Valuations, Use of Proceeds? Final thoughts? 🤩
The company is looking to raise INR 6.6 Bn from the issue, which will entirely by a secondary sale by the promoter group (no fresh issuance, limited capital requirement in the company)

At the higher end of the price-band, the company will list at a MCAP of ~ INR 23 Bn, which translates into a PE (x) of 51x (see image below for Valuation comparison with IIFL Wealth)

The issue opened on 2nd December 2021, and closes on Monday, 6th December, and has been fully subscribed (3.0x including anchor allotment), including participation by retail investors (4.77x times), HNIs (1.93x) and Institutional Category (.03x)

Key risks for the company include

changing regulatory dynamic with respect to expense ratios (which are controlled by AMFI), which can make a material difference to commissions earned,

inadequate performance of the fund can adversely impact the company's ability to grow AUMs and

over-dependence on a group entity Anand Rathi Global Finance for the business relating to structured products

Keep a track? 
---
Like our news coverages?😍 Become a part of our fam, subscribe to our newsletter. Subscribe here
---

Sony and Zee are culminating their rocky relationship; what's up and what do you need to know? 📉
Zee Entertainment Enterprises (ZEE) and Sony Pictures Entertainment are expected to sign a binding merger agreement before Christmas, in line with their pre-agreed 90 day exclusivity period

Mr. Goenka (Promoter & MD) is in Los Angeles to meet Sony senior management, finalise the agreement & sign on the dotted line

Sony will be the sole promoter of the merged entity with shareholders of Sony India owning 53% and those of ZEE holding the rest, with Sony likely to infuse ~ USD1.6 Billion in the merged entity

A mechanism will also be set in place to allow the original shareholders to increase holdings from 4% to ~ 20% mostly through purchases from the open market
So what changes are we looking at? Company, Personnel et al. 😏
Mr.Punit Goenka will continue as the CEO, and will be the only ZEE Executive to have a board seat, with 5 of 9 board members likely to be top Sony executives (Asia Pacific CEO, President); of the remaining four independent directors, one or two may be from the current ZEE Board

The combined entity will own 75 TV Channels, 2 Video Streaming Services (Zee5 & Sony Liv), two film studios (Zee Studios & Sony Pictures Films India), and a digital content studio (Studio NXT) making it the largest entertainment network in India (phews)

The markets were especially enthused when the deal was announced, with the stock +30% during the day; closure of the transaction is likely going to be the next trigger in the name
Exciting! What does Invesco think? (Rmb the whole investor activism scene?) 🤩
Invesco is on board with the deal overall but requested for specifics on the no-compete and equity clawback parts of the deal

They hope to meet the Sony management team and gain more clarity on the deal, with the fund's stand on the ongoing litigation matter (which has oscillated between courts a fair bit) unclear
---
What else caught our eye? 👀
Swiggy understands the power of time 
Swiggy will invest $700 mn in its express grocery delivery service Instamart
It wants to grow its quick commerce business especially in the 10-minute grocery delivery space where it is facing intense competition
Instamart currently delivers more than 1 million orders per week
Oil sees some major volatility 
Oil began climbing after the OPEC partners suggested that they can adjust production output plans quickly in case the pandemic affects the market
Futures recovered from their steep plunge; traders had expected demand to be hurt post the omicron variant news
Prices were going through a bear trend in the recent days
Omnicron may hurt global output 
Global manufacturing activity had only just stabilised when it is now being hit with uncertainties over the omicron variant
Activity in Asia was stimulated because of easing of lockdown with Malaysia, Vietnam and the Philippines all seeing a rise in their PMIs
India's PMI increased to 57.6 — the highest reading since January but the threat to industrial production continues to loom
---

The Gartley Pattern
Gartley is a special chart pattern within the harmonic pattern universe. The Gartley pattern has two key rules:
The retracement of point B must be 0.618 of XA

The retracement of point D must be 0.786 of the XA movement
---