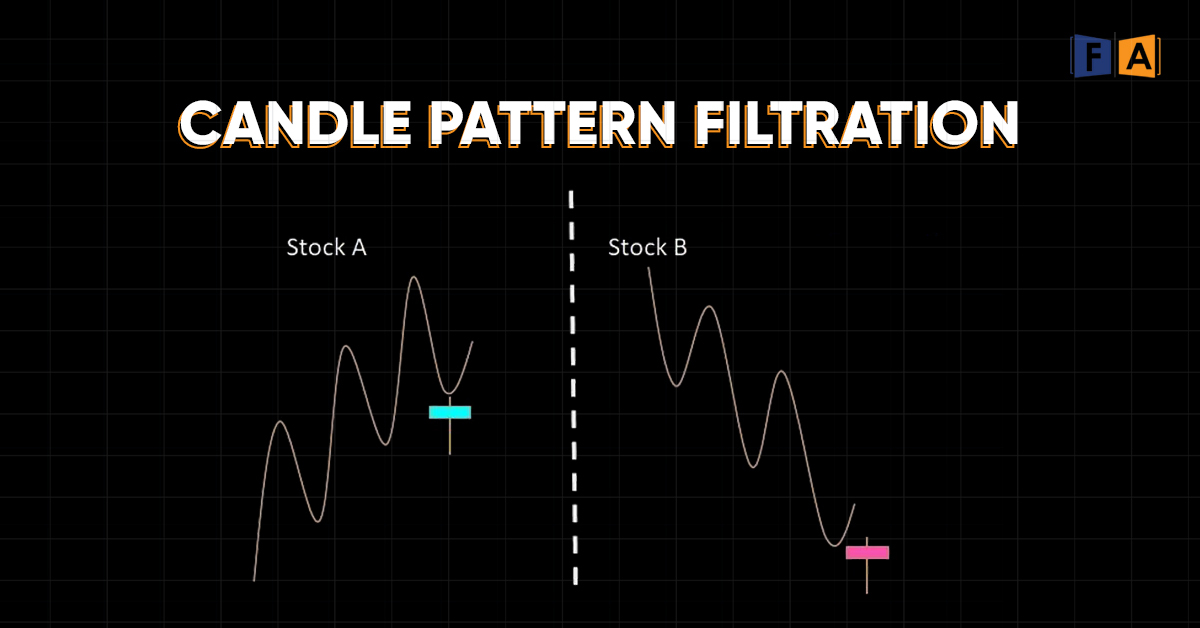 Candle Pattern Filtration
FinLearn Academy
Bullish Reversal Candle – Hammer Pattern
Starter Quiz
Which stock will be your Buy Candidate…Stock A or Stock B?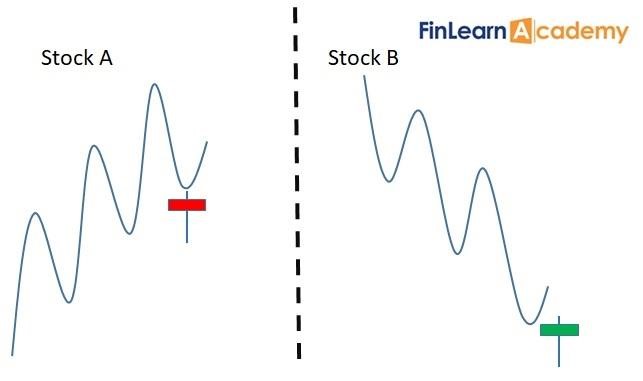 After spending 12 years interacting with thousands of technical analysis students, I realized that a candle pattern is not just a shape but requires an ecosystem to enhance its predictive value.
Analogy
Let's say, you are going to a shopping mall to buy clothes for a family function. To your amazement, you found a 30% discount on branded products and a 70% discount on defective products.
What will you prefer to buy?
Well, the majority of people reverted me with their 30% discount on branded preference and it makes sense.
Can this thought process apply identification of candle patterns? Well…..yes.
Steps to Follow to Spot High Probable Candle Patterns
Let's consider a bullish reversal candle – Hammer pattern.
1. Positive trend with corrective decline move. As it is a positive trend, so we considered it as a branded product and the corrective decline as a discount sell.
Hammer pattern in a strong decline move is like a deep discount but it is a defective product as stock is under a negative trend. We may see relief rallies but it's like going against the trend.
(the swing which favours the trend is called an impulsive and the one which goes against the trend is corrective)
2. Let the corrective move be around the support level. It gives an idea of the maximum discount that can be availed to buy stock but it's still messy….what if the price continued to decline?
3. Shape of the candle: Bullish candle at the support level indicates the presence of buyers. It is a (+ +) situation, at support, the candle shows presence on the buyer. But how we can ensure the genuineness of buying?
4. Follow-up sign: Having support and respecting the support is a different matter. We can call support as respected support once it breached immediate hurdles.
Quiz Analysis
In the shared quiz, I saw a majority of participants' choice was B and but mine is A.
Let's again have one more analogy to put my point.
You have a strong concrete wall before you and a stone in your hand. By throwing that stone at the wall, can you breach the wall?
No…so, the trend is made up of so many candles. It is a strong wall. So single candle pattern – a stone cannot have the strength to break the trend – the wall.
Counterpoint: it's lots of time-consuming, and we will miss the move. Or we will miss the opportunity at the initial stage?
Do you really think, we can catch the bottom? And what will you trade off between Opportunity and Capital?
Well, I will focus on capital because I believe, high probable trades are made in established trends rather than reversal.
---