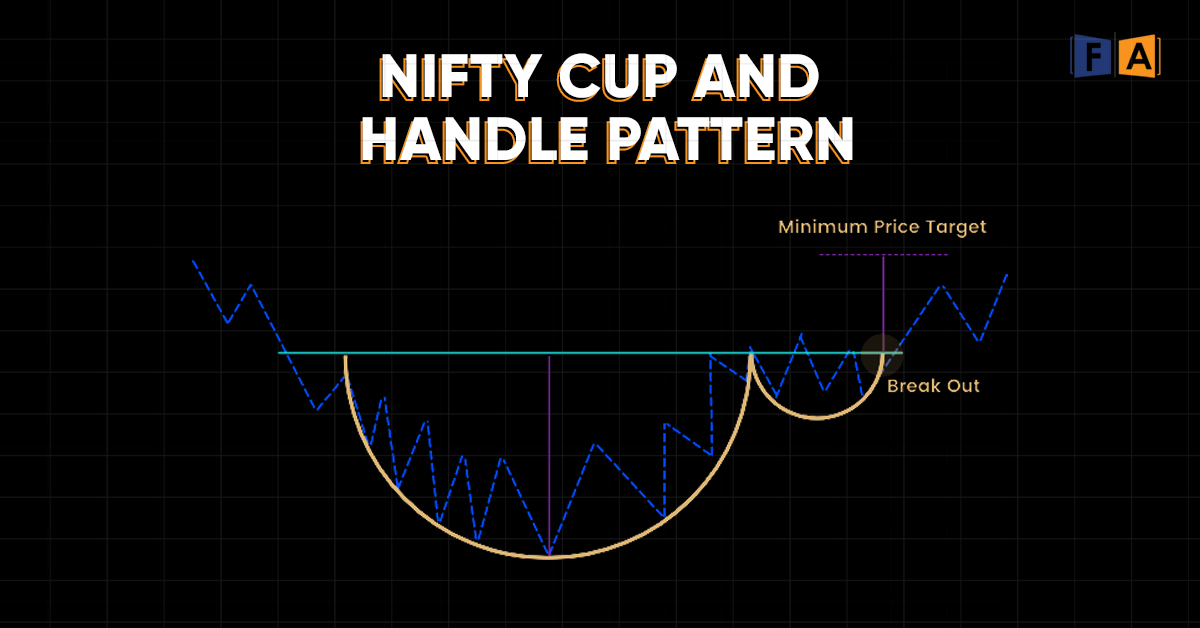 Nifty Cup and Handle pattern
FinLearn Academy
A chart pattern that bodes well for Nifty… 
A chart pattern refers to a distinctive formation that appears on a price chart of a financial instrument, such as stocks, commodities, or currencies. Chart patterns are used by traders and technical analysts to analyze and predict future price movements. There are numerous chart patterns, each with its own characteristics and implications.

Let's discuss Cup and Handle pattern and its history on Nifty 50…
Cup and Handle pattern
The Cup and Handle pattern is a bullish continuation pattern commonly observed in technical analysis. It typically occurs in the price charts of stocks, commodities, or other financial instruments. The pattern consists of two parts: the cup and the handle.
The Cup:
The cup portion of the pattern resembles a "U" shape or a rounding bottom. It forms as the price gradually declines, reaches a low point, and then begins to recover. The left side of the cup represents the downtrend, and the right side represents the start of the uptrend. The depth of the cup can vary, but it is generally smoother and rounded.
The Handle:
After the cup is formed, a small consolidation or retracement typically occurs, creating the handle of the pattern. The handle is a relatively narrow price range, usually sloping downward or sideways. It is formed as some profit-taking or selling pressure emerges, causing the price to pull back slightly.
Breakout:
Once the handle is complete, the price often breaks out in an upward direction, indicating a bullish continuation. This breakout confirms the pattern and can lead to a significant upward price movement. Traders often look for increased volume during the breakout as a confirmation signal.
Price Targets:
To estimate a potential price target, technicians often measure the depth of the cup from the lowest point to the top of the cup and then project that distance upward from the breakout point. This provides a rough target for the potential price advance.
It's important to note that while the Cup and Handle pattern can be a useful tool for traders, it is not foolproof and should be used in conjunction with other technical analysis techniques and risk management strategies. It is always recommended to consider other factors and indicators before making trading decisions.

Educational Image of Cup and Handle Pattern


Nifty 50 and Cup & Handle Pattern
Since the year 2000, Index has formed Cup and handle pattern 3 times, it is a bullish continuation sign.
The recent formation is the 4th attempt at a similar formation. A move above 18800 will confirm the bullish pattern and its bullish implication.
Index has significant support at 18000, 17800, and positional support at 16800. 
The cup and Handle pattern formation is 3000 points deep (18500 to 15500). As per the measured rule concept, the Pattern target can be around the 21500 level.
In conclusion, it is a bullish market, and a dip around the support level can be used as buying opportunity.

---