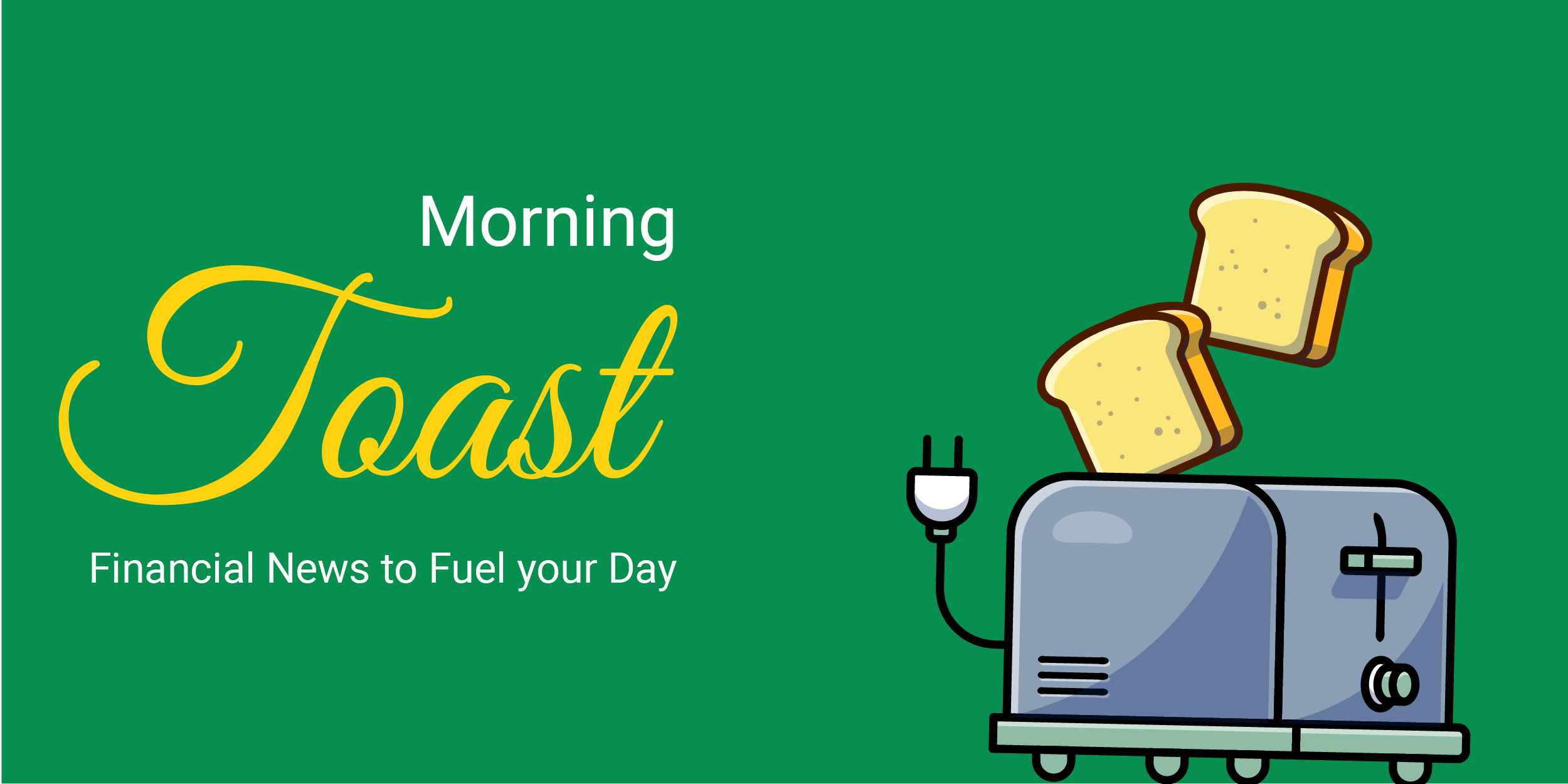 Tesla struggles to live up to expectations
FinLearn Academy
Good Morning Toasters!
Hii friends!!
In today's issue, we cover two global companies, Tesla and Lululemon, who have released their mid quarter numbers. Increased competition, coupled with supply chain challenges have disrupted production at the OG EV player.
Lululemon, an athleisure brand, announced plans to open new stores in Spain, expanding their overseas operations in a bit to increase the top line.
The Indian Real Estate market dropped record first Half year growth, with the INR 1 crore+ category growing strongly year on year. What interest rate hike??
And finally, we've started a rollout of our newest product, Trade:able, that aims to democratise trading, via a unique and fun learning experience. There are a bunch of amazing rewards and prizes to win. Click here to know more.
---
Market Watch
Nifty 50: 15,989.80 | +178.95 (+1.13%)
FII Net Sold: INR 330.13 crore
Sensex: 53, 750.97 | +616.62 (1.16%)
DII Net Bought: INR 1,464.33 crore
---
Global Company News
Tesla struggles to live up to expectations
For the first time in over 2 years, Tesla aka the king of all things electric has failed to top its delivery # from the previous quarter, going a step further and recording a drop in count by ~60k
China's hard no covid policy which has prevented Elon from starting production in Shanghai, coupled with an inability to ramp up production in the newly launched factories in Germany and Texas have hurt the company
Tesla stock is down ~42% YTD (understandable looking at the broader NASDAQ), which in addition to slowing production, has also had to deal with increased competition, both from OG players like VW, GM & Ford and New Energy Vehicle (NEV) companies
NEV or New Energy Vehicles as called by Chinese regulators to cover companies that produce pure EV or battery-powered (Teslas), hybrid plug-ins and/or fuel-cell cars
BYD, a Chinese car company backed by Warren Buffet has surpassed Tesla as the largest EV producer by sales, with a small disclaimer of not all vehicles pure battery operated, and a large # of hybrids (which allow for longer distances in comparison)
LuluLemon expands operations to the hub of athleisure
Expanding to its first European market since 2019, the king of the athleisure segment announced plans to open 2 brick & mortar stores in Spain (Barcelona and Madrid), in addition to launching its e-comm website in the coming months
A pandemic fav company turning into a post-pandemic reality (think: Duolingo), Lululemon recorded sales of USD 6 Bn last year, beating competitor and much larger player Under Armour in the process
A largely DTC brand, through owned stores and e-comm platforms, Lululemon re-jigged sales expectations for the coming year as last quarter sales increased by 32%, with consumers sticking to pandemic-related choices
A largely North American Brand (Canada HQ'ed), the company plans to quadruple sales by launching in new markets, including the hub of tourism, with the company operating 40 stores in 8 European cities and growing
The company estimates a global addressable market size of USD 650 Bn (ABFRL has also expanded within this segment), with its topline a mere 1%; the stock was up 8% to news of its expansion in Europe
---
If you're interested in financial news & analysis, and wish to receive this email in your mailbox consistently, click here to Subscribe Now
---
Around the World 🌎
Meltdown leads to another acquisition – crypto services firm Vauld will be acquired by Nexo, one of the larger crypto-lending platforms in the wake of a brutal downturn. The main aim is to expand operations in Asia where Vauld has 800,000 users. It is experiencing financial troubles as evident by its suspending withdrawals and laying off 30% of its workforce
No messing around in the ice cream biz – After Ben & Jerry's decided to end sales in Israeli-occupied areas, it is suing parent company Unilever to block the sale of its Israeli business to a licensee as it was done without the board's approval. B&J believes that such sales were "inconsistent with our values" – note that the original acquisition involved agreeing to let Ben & Jerry's independent board have autonomy about its social mission
Juul back on the market – a major relief to the e-cig maker, the FDA has suspended its ban on Juul Labs Inc.'s products partly due to insufficient and conflicting data about potentially harmful chemicals leaching from the company's refill pods into the contained liquid. Juul on the other hand had contended that the FDA mishandled its application overlooking more than 6,000 pages of data
---
Industry News
India Real Estate Market picks up post-pandemic; what's up and what do you need to know?
Residential sales grew by 60% during the first half of 2022 in the top 8 cities, with home sales in National Capital Region (NCR) increasing by 154%, the highest for any half-year period since 2013
Office sales in comparison increased by 107% during the first 6 months, with the Bengaluru region leading transactions, followed by NCR
Residential prices in response to increased demand have seen an increase b/w 3% – 9% YoY, for the first time since 2015, with larger volume markets of Mumbai (6%), Bengaluru (9%) and NCR posting notable increases (7%)
The share of transactions in the INR 1 Crore + category grew significantly, up from 20% of the total in H1FY21 to 25%, with homebuyer preference to upgrade the standard of living, coupled with limited disruption to this category of earners playing out
In contrast, the range b/w INR 50 Lakh – 1 Crore saw a significant dip to 34% of the overall pie (vs 39% in H1FY21)
Interesting! Tell me more? Any potential interest rate hike impact? How has home loan performance been for banks? (all great q's brooo)
Pricing for most products in the last two months (since the Fed initiated, RBI rate hikes began) has gone up, with a 0.75% – 1% increase in rates for Home Loans to 7.5% and yet, demand for HLs has remained strong, with rates still below pre-covid-19 levels
That being said, the mean rate (pre-covid) at which demand begins to wane is b/w 8% – 8.5%, with homeowners reconsidering purchasing assets that will take longer to pay off at such rates
Armed with a cost advantage, and improved Turnaround Time (TAT), Banks continue to gain market share in home loans, with most agreements made on floating rates; retail growth in Q1FY23 has largely been led by mortgages, growing ~14% YoY
Home loans at a banking level and real estate purchase at a consumer level has been a consequence of expectation realignment as customers have aimed to improve their standard of living (we believe)
An interesting tweet by the Zerodha Founder on the perils of investing in real estate with the objective to make high returns.
---
What else caught our eye? 👀
Dabur is back on its game
Dabur India has predicted "high single-digit" revenue growth in the June quarter in spite of unprecedented inflation taking a toll on discretionary income
This comes against a very high base of 35.4% revenue growth in Q1 FY22 with a major player being the food and beverages vertical – healthcare vertical is expected to decline
Operating margins are expected to be lower by around 200 bps (vs Q1FY22) with inflationary pressures continuing to impact input costs such as crude-led derivatives
VI has big plans in the making
Vodafone Idea Ltd wants to reach 250,000 micro, small and medium enterprises over the next year by offering its mobility and integrated internet of things (IoT) solutions
They want to capitalise on the captive 5G network business expected from enterprises by offering products including cloud telephony and auto-receptionist
Bharti Airtel is a major competition in the segment and has already secured partnerships with giants like Google
---
Educational Topic of the day
CAGR
The full form of CAGR is the compound annual growth rate. The yearly rate of growth in the value of an investment or financial indicator, such as revenue, over a given time period is known as CAGR. The CAGR essentially "smooths" the growth rate by giving the growth rate as though the changes happened uniformly and at the same rate across each individual period.
Formula
CAGR = (Ending Value / Beginning Value) ^ (1 / Number of Periods) – 1
---
Edited by Raunak Karwa
Let's connect, I always love hearing from you. Hit me up at Raunak_Karwa on Twitter or Raunak.karwa@finlearnacademy.com
---