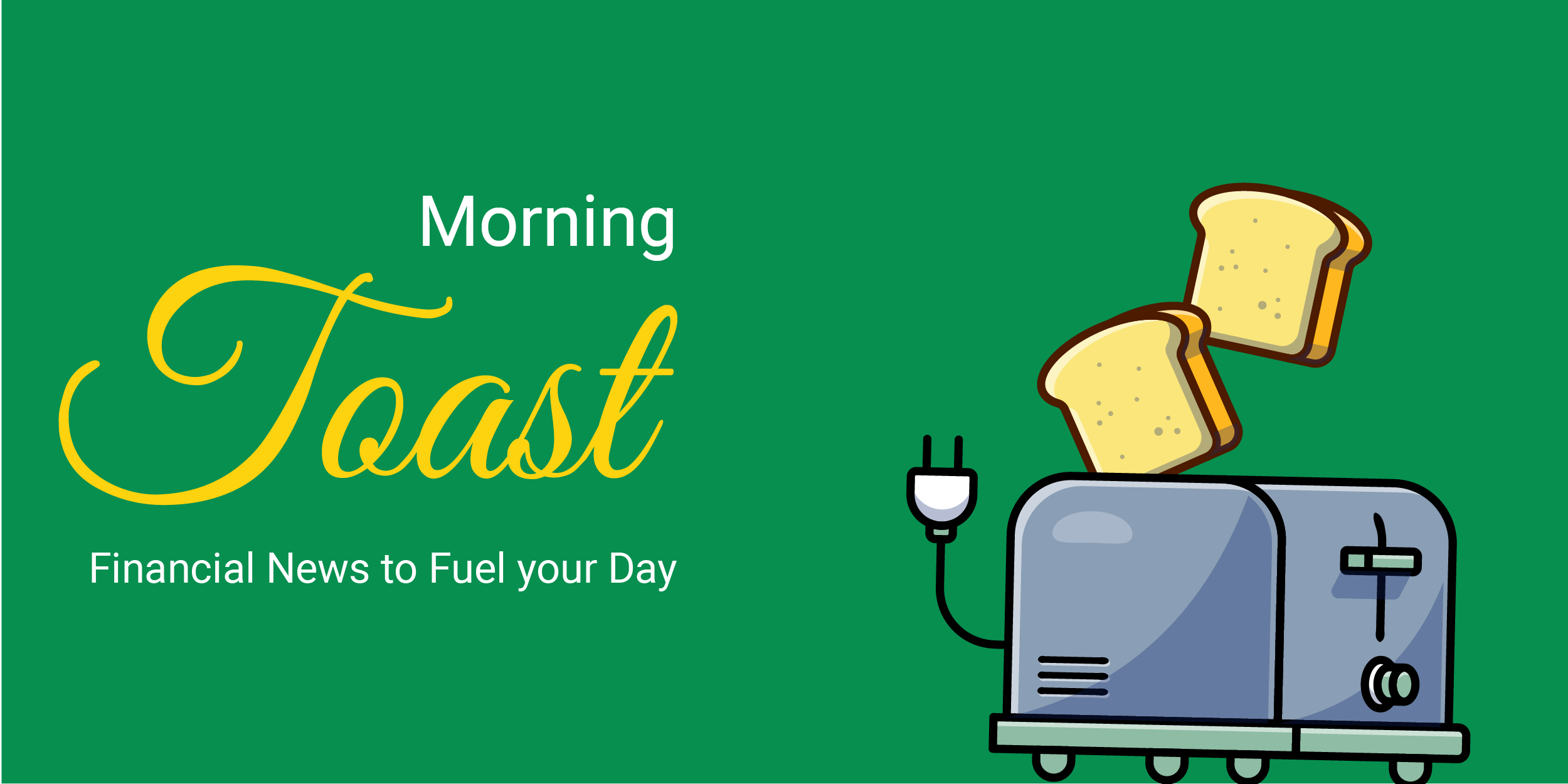 Banks Release Q1FY23 Business Update
FinLearn Academy
Good Morning Toasters!
Ssup friends! Hope it was a good start to the week. The US Markets were shut on account of 4th July, which probably meant we had a free shot at how we wanted to shape the day 😛 Sensex recouped the day's loss, closing 327 points higher with good buying support in FMCG, Banking and financial stocks (more on this below)
In today's issue, we cover Q1FY23 business updates from some Banks; strong credit growth is a major recurring theme across the #s released, with a strong uptick in retail growth for both HDFC & Federal Bank.
The automobile industry witnessed a sequential recovery in month-on-month sales for most segments, supported by new launches, and production improvements in semiconductor chips. TATA Motors, recording strong MoM growth, released its vision to sell half a million EVs in FY23, up from 19,500 units in FY22.
And finally, we've started a rollout of our newest product, Trade:able, that aims to democratise trading, via a unique and fun learning experience. There are a bunch of amazing rewards and prizes to win. Click here to know more.
---
Market Watch
Nifty 50: 15,835.35 | +83.30 (+0.53%)
FII Net Sold: INR 2,149.56 crore
Sensex: 53, 234.77 | +326.84 (0.62%)
DII Net Bought: INR 1,688.39 crore
---
Industry Update
Banks release Q1FY23 business update; what's up and what do you need to know?
Credit Update
HDFC Bank retained a healthy credit growth trajectory at 21.5% YoY / 2% QoQ, mainly led by improved traction in retail (up 21.5% YoY) and continued momentum in commercial banking / corporate book
Within retail, given the issuance of new cards embargo was lifted some time ago, the Bank will likely have re-accelerated growth, building out the unsecured book; likewise, mortgage book purchase is also high at INR 95 Bn
IndusInd Bank credit growth improved to 18% YoY / 4% QoQ vs 12% YoY in 4Q, on the back of buildout in the corporate book, and some improvements in a retail book, including in MFI and Commercial Vehicles
The Bank's CASA is back to healthy levels of ~43%, driven by growth in deposits at 13% YoY / 3% QoQ
Federal Bank growth accelerated at 16% YoY / 5% QoQ vs 9% YoY / 3% QoQ in Q4 on the back of a strong uptick in retail looks at 17% YoY, followed by 16% YoY growth in the wholesale book
Interesting! Credit has remained strong! What else?
HDFC Bank has re-accelerated growth, picking up from the last quarter; margins/fee movement are likely going to decide the stocks fate, with the last quarter performance not impressing the markets
The Bank has received in-principle approval from SEBI on its merger with HDFC Limited, but still awaits intimation from RBI, which if / when it comes will likely act as a positive lever for the stock (we believe)
IndusInd Bank has recently hiked its deposit rate, which coupled with higher growth in Corporate Book should aid in keeping margins in check (something to consider given the growing cost of capital)
Federal Bank has clocked a respectable CASA at 37%, driven by moderate gains in deposit growth (~8%), which should aid in margins at the end of the quarter
Got it! Anything else? Any stock price perspective? (Always my maan)
Credit growth consistency across major players (Large & Mid alike) is a positive sign of business as usual (given changing macroeconomic conditions) and points to the limited on-the-ground impact of increasing inflation (at the moment at least)
YTD Bank Nifty (constitutes all banking players) index is down 6.8% with all major banking stocks beaten, and currently trading at inexpensive valuations (in comparison to bull market peak cycle)
IndusInd Bank currently trades as 1.1x FY24E Adjusted Book Value, Federal at 0.9x, with HDFC Bank also cheaper in comparison to peak valuations
---
If you're interested in financial news & analysis, and wish to receive this email in your mailbox consistently, click here to Subscribe Now
---
Around the World 🌎
Is Shein stealing? – China-based fast fashion company Shein has been fighting allegations of copyright theft i.e profiting from other people's designs. Victims range from small-time designers to retail giants including  Ralph Lauren Corp. and Oakley Inc, however, a Shein spokesperson has denied all allegations saying it is not their business model to infringe anyone's valid intellectual property. Most cases have been settled for undisclosed amounts
Not the best time for Tesla – Q2 of this year saw only 254,695 deliveries (vs 310,048 in Q1) owing mostly to the shutdown of its Shanghai factory and the subsequent loss of low labour costs and an established battery supply chain. It is also cutting white collar jobs after it overstaffed in many departments, and Musk has warned time and again of an incoming recession
Coinbase trying to compensate – In a bid to offset weakness in its core spot-trading business, Coinbase has launched a new derivatives product –  its first product is a "nano bitcoin" futures contract that will be offered through brokers. Trading volume was down 30% QoQ and a new revenue stream is the need of the hour. It also faces tough competition from decentralised exchanges, or DEXes, in the derivatives market
---
Industry News
Automobile Companies post sequential improvement across segments; what's up and what do you need to know?
In what may be an early indication of a turn in the auto cycle, after months of underperformance/delivery due to a range of issues (supply chain problems, demand troubles), Auto companies recorded sequential growth on June'22
Passenger Vehicles and 2W improved due to an uptick in production/dispatches, with 2W growth assisted by higher demand from the salaried / student segment (with a return to in person playing a role)
Commercial Vehicle (CVs) volumes improved on the back of increased demand for buses/cargo vehicles, while tractors trended higher in a traditionally strong month (seasonality coming through)

Impressive! Tell me more?
The passenger Vehicle (PVs) industry grew 9% MoM to ~321,000 units, supported by higher production and dispatches for OEMs such as Hyundai, Kia, Toyota, Renault and Tata Motors (TTMT)
Among the listed players, TTMT domestic volumes grew by 4% MoM, Mahindra & Mahindra (MM) witnessed flat growth, while the OG manufacturer, Maruti (MSIL) recorded a decline of 1% (still struggling to get production going)
The 2W industry made a comeback (of sorts), with domestic volumes growing by 30% MoM for Bajaj Auto and 1% for TVS Motors; in contrast, heavily dependent on semiconductors, Royal Enfield (Eicher Motors) and Hero Motor recorded volume declines
Commercial Vehicles maintained upward momentum with growth in both buses and cargo vehicles, as domestic volumes grew for Eicher Motors (CV segment), TTMT and Ashok Leyland in equal measure
Got it! Anything else? What to expect going forward?
A large pending order book for PV OEMs provides strong visibility for the next few quarters, while a ramp-up in production, new product launches and inventory buildup at dealer levels is expected to support 2W volume performance in Q2FY23

---
What else caught our eye? 👀
Air India already creating problems for Indigo
Almost half (~900) ) of Indigo's flights were delayed on Saturday as crew members went on a mass sick leave when in actuality many went for the recruitment drive hosted by Air India
Only 45% of IndiGo flights were able to operate on-time performance (OTP) within 15 minutes of the scheduled departure time on Saturday
There has been friction between Indigo and its employees after the former suspended a few pilots who were planning to organise a strike against the pay cuts implemented during the pandemic to the tune of 30%
Another blow to the crypto scene
Singapore-based crypto-trading platform Vauld has suspended all deposit and withdrawal options citing financial challenges and potential restructuring
They reported customer withdrawals of over $197.7 million since June 12, 2022, and blamed the collapse of Terraform Lab's UST stablecoin, Celsius network pausing withdrawals, and Three Arrows Capital defaulting on their loans as the trigger
Vauld laid off 30% of its workforce in June – most of whom were based in India
---
Educational Topic of the day
Windfall Tax
A windfall tax is a charge levied by federal governing bodies on business entities when they make abnormal gains from financial windfalls. The idea behind such taxes is to reallocate favorably abnormal profits in one sector for social causes. Taxes like lottery tax or tax on winnings from game shows and horse racing, gambling or betting are examples of windfall taxes.
---
Edited by Raunak Karwa
Let's connect, I always love hearing from you. Hit me up at Raunak_Karwa on Twitter or Raunak.karwa@finlearnacademy.com
---