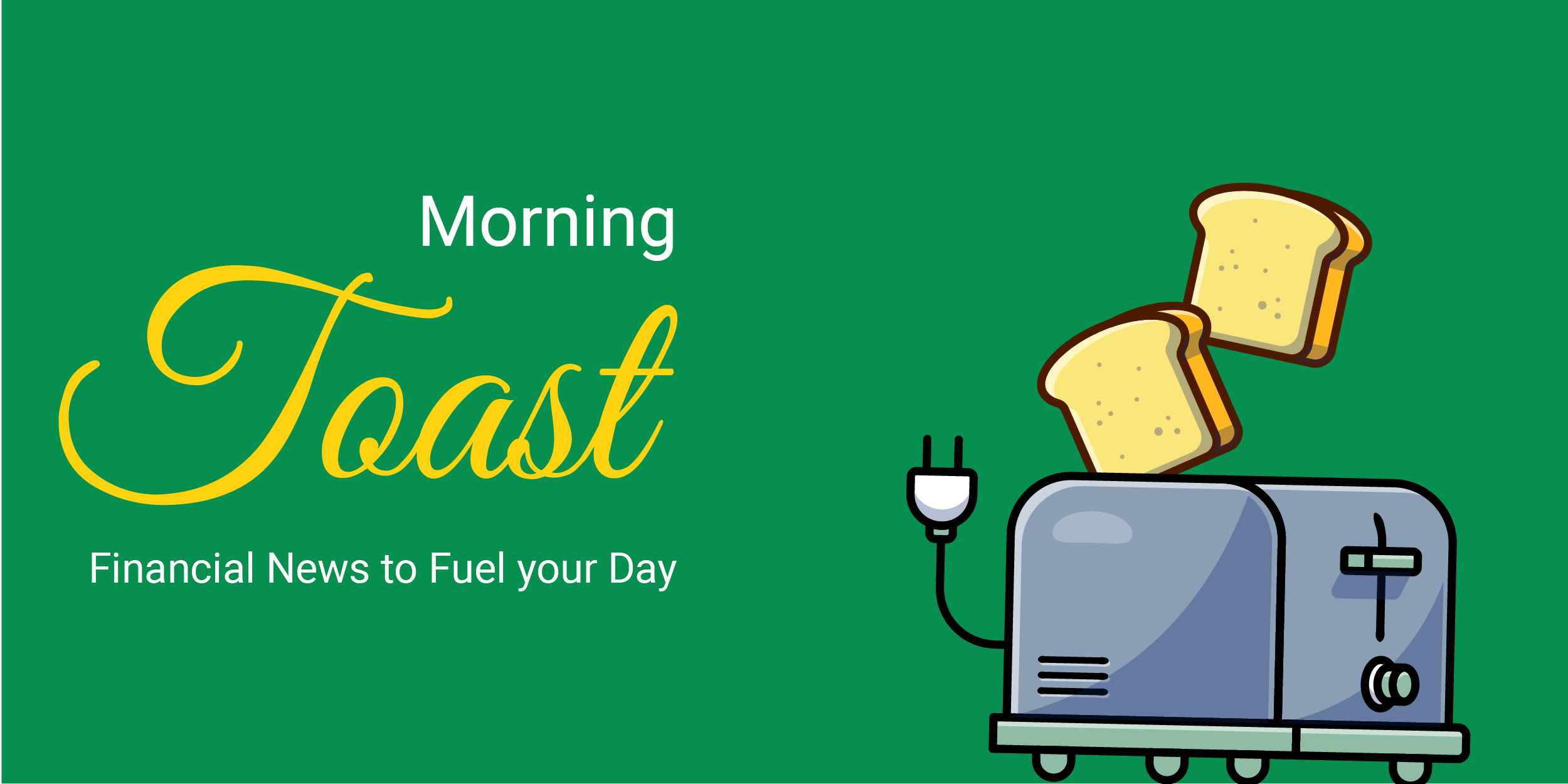 Still Gotta Own That Pair of Denim, Right? 😎
Aastha Tiwari
Yesterday's Market Performance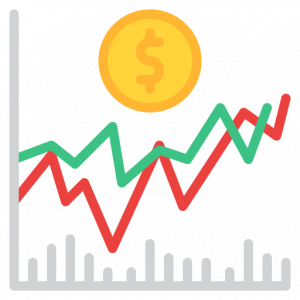 Nifty: 15670.25 | 20.10 (0.13%)  
FIIs net buy: 1499.37 Cr
DAX: 15692.90 I 60.23 (0.39%)
Sensex: 52100.05 | 132.38 (0.25)
DIIs net sell: 1175.01 Cr
FTSE: 7069.04 | 4.69 (0.07%)
---
Howdy Toasters!
In today's issue, we discuss; downward trend in denim sales (is it because people are increasingly moving to athleisure for comfort wear?, or it's the lockdown effect?- read more), Bajaj Finance's performance, other important financial news, and an educative concept to help you keep learning. Read along!
---

Bajaj Finance: 5993.45 | 31.80  (13.40%)
Below is a chart of Bajaj Finance on a daily time-frame. The script faced resistance around level 5815. Recently it gave a breakout and we can expect a good up move.
The net profit zoomed 42% to Rs 1,347 crore.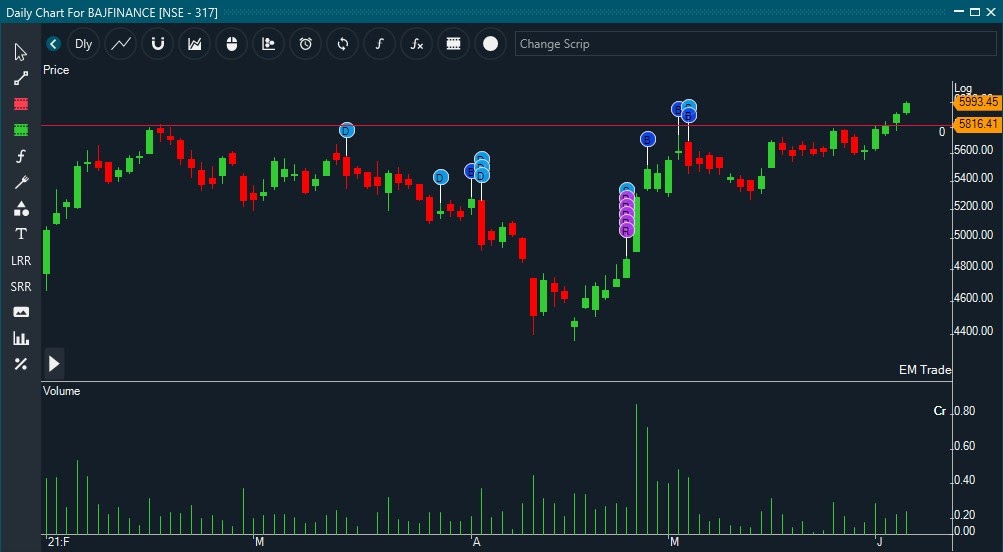 Nestle (India) Ltd: 17,426.80 | 372.60 (2.09%)
FMCG major Nestle India is in the midst of a global row over its nutrition standards. The company, in an internal document, is known to have acknowledged that more than 60 percent of its mainstream food and drinks portfolio don't meet a recognized definition of health.
Is this going to be a repeat of the Maggi crisis? Nestle India has been trying hard to launch healthier variants of Maggi such as atta noodles and spinach noodles, but these constitute less than 10% of its portfolio.
---


Jeans Industry going through a bit of a rough patch? 😛
Jeans sales have been sluggish for the last 5 years, and more accentuated post the pandemic, with almost every apparel category struggling (obviously).

Denim as a category has always been in the top five choices for the Indian market, but a cultural reset and with old, pre-pandemic notions no longer applicable, retailers and manufacturers are preparing for the 'new normal'.

Arvind Limited, the largest manufacturer and exporter of the category has seen volumes dip from its peak of 106 Million Metres in 2015 to just about 80 million meters in 2020 (financial year).
Woah! What's the scene?🤔
Due to the highly commoditized nature of the product, margins have been in a downward spiral for the last couple of years, stretched further by the pandemic (down to single digits).

Competition from Bangladesh, with easier labour laws, cheaper manufacturing costs, and duty-free access to the EU, has meant a high % of manufactures have preferred sourcing from elsewhere (in our previous note, we mentioned how lockdowns in India have not helped manufacturers either).

Demand for sustainability in manufacturing fabric (water utilization is massive in producing denim wear) has also impacted sales and overall acceptability.
I still like wearing jeans man 😥😅
Denim continues to be the largest category for Myntra in terms of sales, after t-shirts & shirts it's consistently growing at ~40% year on year.

Over commoditization has impacted prices, with flipside to the argument meaning a wider market to cater to; mass-market premium and ticket size of INR 600 has allowed greater adoption in tier 2 & 3 cities, fulfilled via E-Commerce.

Initially, 13-16 ounces provided you with solid durability and longevity in use; but with newer consumer trends in play, manufactures are combining strength with comfort, continuously reimagining the fabric.
---

What else caught our eye? 👀
RBI Maintains Status Quo –
Monetary Policy Committee kept things as is, emphasizing its commitment towards providing ample liquidity for in the near term; downgrading FY 22 growth forecast by 100 Bps to 9.5%.
A separate carved out liquidity window of INR 150 Bn till March 22- for a tenure of 3 years, allowing Banks to lend towards contact-sensitive businesses like Hotels, Restaurants, Tourism, Aviation Ancillary, Bus Operators, etc.
Elon continues his love-hate relationship with Bitcoin 
Musk and his tweets; this time he tweeted a broken heart emoji with our favourite (?) bands lyrics
Doge was down 13%, with Bitcoin and Ether slipping and then recovering
We're sure he knows what he's doing (??)
DMart is on a property buying spree
A hallmark of DMart has been their astute ability in identifying the top of the line locations for their stores and owning their properties instead of draining their bottom line through rentals

The company is on a buying spree, snapping up properties at a time when there's limited activity (some would say that's the best time), with the expectation that post-pandemic, activity will be in full swing
Softbank doubles down on its India Portfolio (again)
Softbank is closing in on USD 700 Million round in Flipkart, three years after they sold their stake in the startup (?), which is expected to value the company at USD 28 Billion

This follows investments made in Zeta (250 Million), Meesho (300 Million), Whatfix (90 Million), and conversations ongoing with Swiggy (450 Million) and OfBusiness (150 Million)
Softbank doubles down on its India Portfolio (again)
United Airlines has placed the first firm order with Boom Technology for their Overture Aircraft, booking 15 Supersonic Jets at a cool USD 3 Billion.

Each aircraft, which can seat 88 passengers will cover the distance between Newark and London in 3.5 hours and Tokyo and SF in 6.
---

Systematic Equity Plan (SEP)
Systematic Equity Plan (SEP) allows you to invest or buy a pre-specified quantity of shares in a consistent manner. Adding to your portfolio on a regular basis helps you unleash the power of compounding and achieve your financial goals faster. You can automate your equity investments by setting up a SEP.
---
Toast – Quote of the Day 📜
"Why not invest your assets in the companies you really like? As Mae West said, 'Too much of a good thing can be wonderful."
Warren Buffett
---