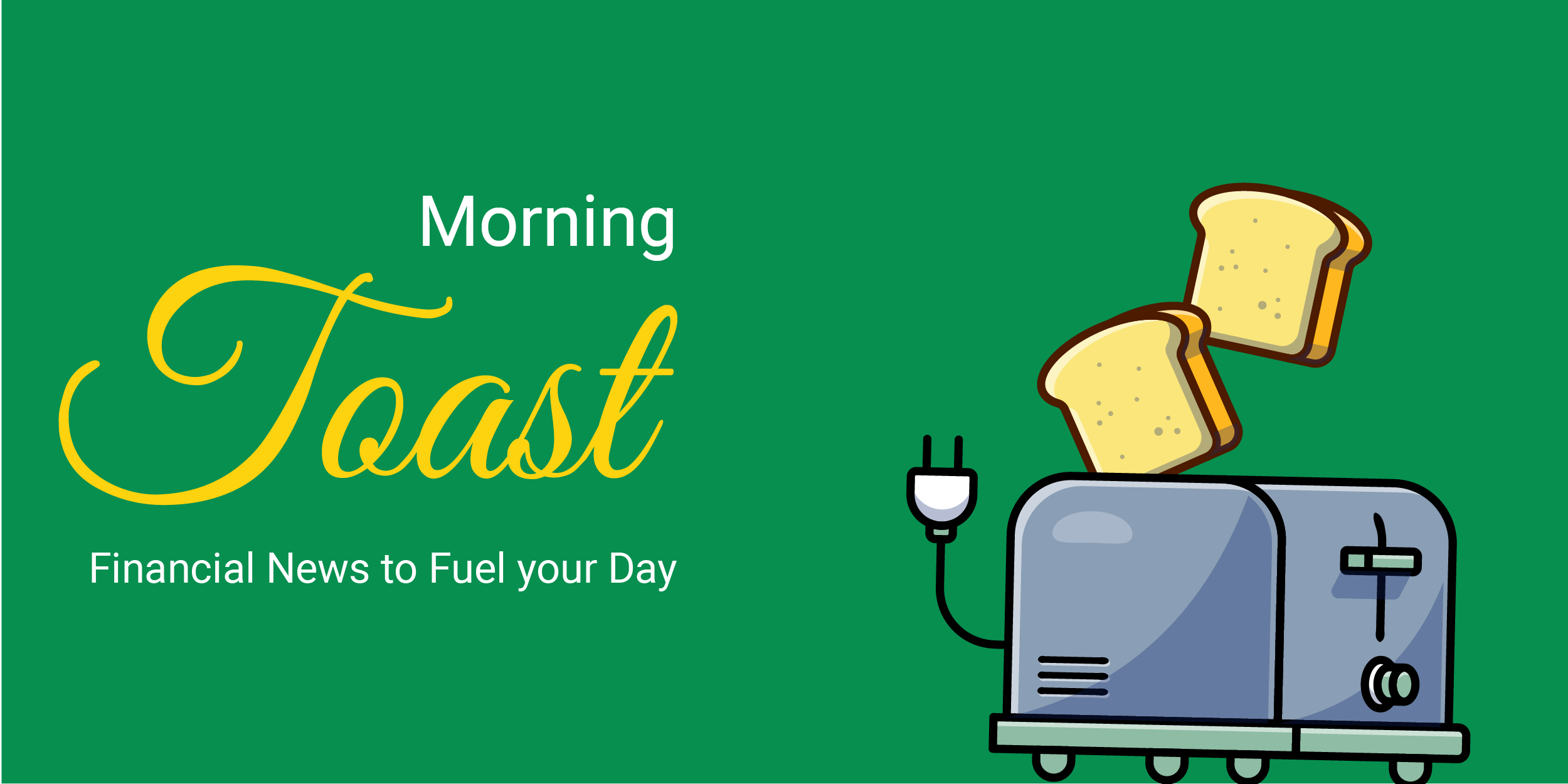 Myntra Sale Demand Questions Inflationary Trends
FinLearn Academy
Good Morning Toasters!
Hi friends!! The sports sector in India (comprising media rights, apparel, sports nutrition, sports equipment etc) as an industry is likely to jump 5x to reach a value of $100 billion by 2027 from $27 billion in 2020. To say the least, this tremendous growth is possibly being led by IPL, having over nine million viewers which have commercialised and scaled successfully. Huge, right? 😏
In today's issue, we analyse the performance of Bollywood/Hindi cinema over non-Hindi cinema and turns out that the box office shares of Hindi cinema have declined to 10% over the last few months. In contrast, PVR and Inox have gained huge footfalls due to the success of South movies but, in the end, Bollywood is their bread and butter.
Myntra recorded a 17% growth in the number of items ordered, and saw about 21 million products purchased by 5 million shoppers across the country in their 16th edition of End of Season Sale. A solid EOSS reaction shows request stays for optional spending, amid a high inflation environment, with brands taking care of their stock and store network in a more ideal way.
And finally, we've started a rollout of our newest product, Trade:able, that aims to democratise trading, via a unique and fun learning experience. There are a bunch of amazing rewards and prizes to win. Click here to know more.
---
Market Watch
Nifty 50: 15,413.30 | −225.50 (1.44%)
FII Net Sold: INR 2920.61 crore
Sensex: 51,822.53 | −709.54 (1.35%)
DII Net Bought: INR 1859.07 crore
---
Industry News
Bollywood losing its mojo?
In the last few years, Total Box Office Collections (TBOC) have grown steadily, with pre-Covid years of 2015-19 recording a 6.8% CAGR, via a 3.6% growth in Average Ticket Price (ATP) and 2.9% growth in average footfall
Bollywood or Hindi cinema has been a major contributor to the net TBOC with ~60% of collections in the 16 quarters preceding the pandemic attributed to films released by the Hindi Film Industry
However, over the last few post-pandemic quarters (since theatres opened for good), Bollywood performance has been dismal (to say the least), with a hit rate of a paltry 10% vs 35-40% pre-pandemic, with only 3 films delivering a strong showing at the box office
In contrast, non-Hindi cinema via movies like RRR and KGF Chapter 2 has delivered strong returns, collecting INR 6.3 Bn in revenue from non-Hindi speaking states in addition to performing strongly in their home markets
Damn! Tell me more?
Historically, regardless of the quality of content, Bollywood films have recorded strong collections on the back of a huge following for superstars drawing audiences
This trend seems to have changed, with a pretty direct correlation between the quality of content and success of the film, with most films released in the last 2-3 quarters with negative reviews failing to perform at the box office
Likewise, the absolute number of films released per language has seen Bollywood lag behind other markets (Telugu, Kannada, Tamil), in contrast to pre-pandemic days (see image below)
Regional cinema has seen a surge in the last couple of quarters, with a net positive overall contribution and yet a longer-term analysis suggests sporadic / non-consistent performance at best, with only the headline (RRR, KGF, Pushpa) names recording any form of success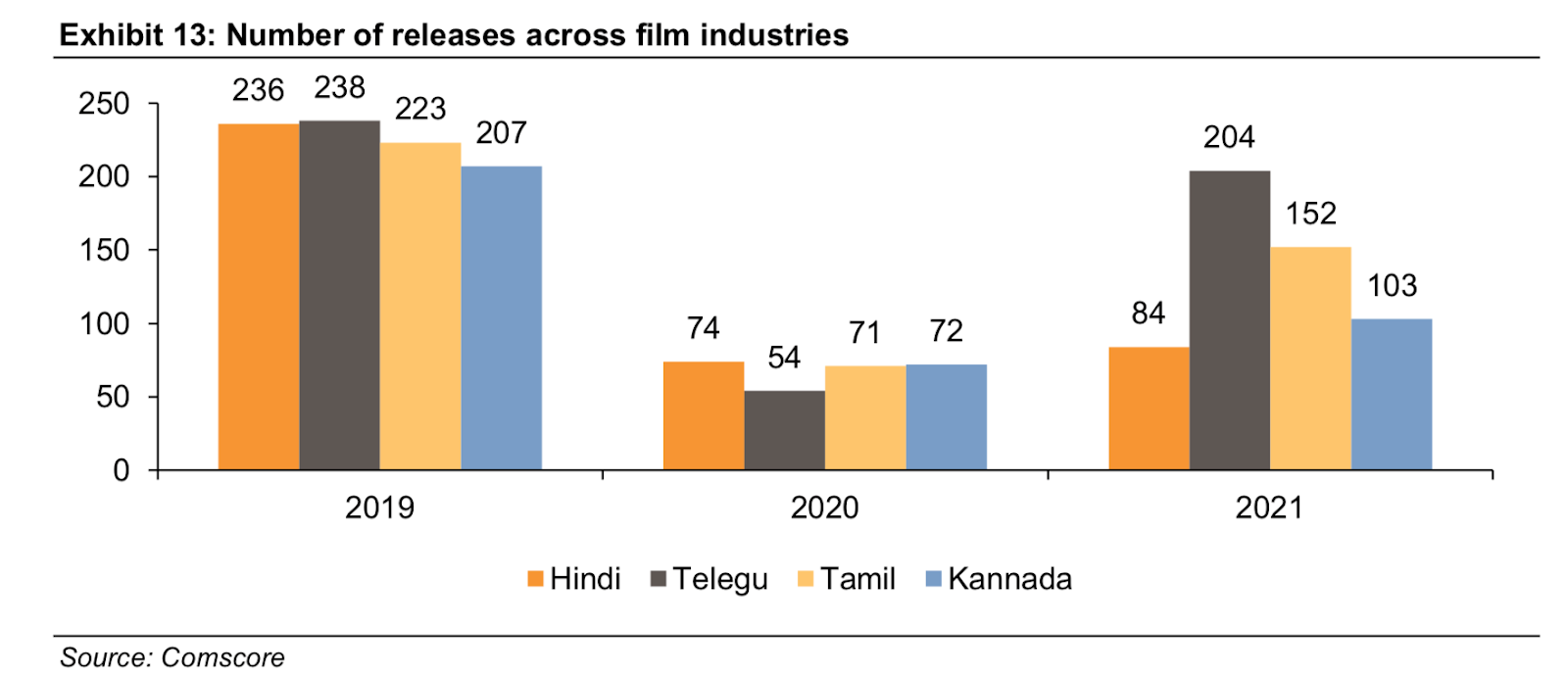 Interesting! So what's up then? OTT impact? How does this play out for PVR – Inox?
The importance of Bollywood for large multiplex chains (PVR, Inox) is a non-negotiable, with South India more dominated by single screens; likewise, Hollywood contribution pre-pandemic was high at 15%, with a low # of movies from that market to be released post-pandemic
OTT Platforms have made huge investments in acquiring content in India, estimated at USD 500 Mn in the last year (Netflix at USD 200 Mn and Amazon at USD 140 Mn)
And yet while subscriber growth has been below-par (to say the least) looking at the kind of investments made, theatre footfalls haven't particularly suffered, with Indian cinema chains seeing record footfalls in March'22 (or when cinemas reopened)
Globally as well, looking at US & Canada as headline markets, strong OTT subscriber growth (3x growth, 101 Mn to 353 Mn) has been paired with very small degrowth in theatre footfalls (2%), which may also be attributed to the closure of select cinema chains (see image below)

Nice! Final thoughts?
Content is king, and there is no hiding from that with post-pandemic choices are now highly driven by the quality of the story & value for money and no more by which actor is part of the movie
And Bollywood is key – the # of Bollywood movies poised to release in the coming year is starting to pick up meaningfully, with a line-up including a slew of big & small ticket movies, which should bode well for PVR + Inox
---
If you're interested in financial news & analysis, and wish to receive this email in your mailbox consistently, click here to Subscribe Now
---
Around the World 🌎
It's a discount season – Gov of India has asked state oil companies to pick up huge volumes of cheap crude from Russia in the event of heavy sanctions being imposed by the West.  Indian Oil Corp. Ltd is among the major beneficiaries of this discount, and India, in general, is playing a key role in making up for lost demand from the West
Credit Suisse wearing its smart pants – Credit Suisse Group AG's Bermuda life insurance unit has found a loophole that exempts them from paying a billionaire client a $607 million court award. The bank was sued for breach of contract and fiduciary duty after the client's private banker admitted to cutting and pasting signatures to make unauthorized stock bets. If they win this argument, it would leave the billionaire with no penny awarded
Bye bye cereals – Kellogg is looking to pivot from the cereal to the much – more -lucrative snacks business and might even sell its plant-based food business. Its global snacks business (Pringles, Pop-Tarts, and Cheez-It etc.) stands at $11.4 bn and sees a high growth rate of 6%. The move may not benefit investors however as they will be left holding a chunk of the struggling cereal business
---
Industry News
Continued online retail spends ease inflation concerns
Discretionary spends remained healthy at the recently concluded Myntra end of season online sale (EOSS), with the online platform recording 17% growth in the number of items ordered (21 Mn) despite a high base
The absolute # of shoppers on the platform also increased by ~19% to 5 Mn, driven by a ~ 1 Mn increase in first-time shoppers, split evenly across Metros and Tier 2 / 3 cities
Importantly, brands post pandemic have significantly improved omnichannel capabilities by listing their entire inventory on online marketplaces; ~3,800 stores were Omni-enabled by 300 brands in Myntra's June'22 sale vs 400 stores in June'20
Major brands/companies expect a stronger / higher realisation in upcoming EOSS in physical channels, driven by lower discounts and a shorter EOSS period (5-6 weeks vs 7 weeks)
Interesting! Tell me more?
Brands have exited the pandemic with a much better handle on inventory and supply chain, including maintaining agility and just-in-time inventory management
Likewise, a strong EOSS response indicates demand remains for discretionary spending, amidst a high inflation environment, with brands/companies also investing in inventory for a strong FY23 (interesting!!)
ABFRL recently concluded an INR 22 Bn capital raise from GIC Singapore, which should provide the twin benefit of decreasing leverage on its balance sheet, while also providing equity growth capital to fund its aggressive store expansion strategy (~400 lifestyle stores, 80-100 stores each for Pantaloons, Ethnic / Innerwear)
Likewise, TCNS recorded a ~90% recovery in physical channels in Q1, with the company highlighting a change in demand trends as consumers opt for fashion needs vs needs-based spending during the pandemic
ABFRL / TCNS are down ~17% / 38% in the last 6 months, with YTD performance also along similar lines, with more pain likely before business fundamentals drive performance?
Keep a track?
---
What else caught our eye? 👀
MamaEarth Limited next in line for a big valuation jump
MamaEarth is looking to raise $300 million in the next 12-15 months at a rumoured valuation of $3 billion – it was last valued at $1.2 bn in Jan'22
The high valuation of 10-12 times forward earnings is based on sales growth and future revenue potential and comes against the backdrop of a slow down in the startup space with staff reductions and difficulty in raising funds
Though 70% of sales come from online platforms, the company is looking to increase its offline presence to reach 40,000 retail outlets in 100 cities this year
Say hello to sports
The sports industry in India (media rights, apparel, sports nutrition, sports equipment etc ) is likely to be 5X and reach a value of $100 billion by 2027
The major driver here is the IPL wrt media rights, while India has become the largest manufacturer of sports equipment in Asia after China and Japan
Challenges like lack of infrastructure, high taxes levied on sports equipment and events and the lack of financing and governance however continue to persist
---
Educational Topic of the day
SEC Yield
The SEC yield, also referred to as the standardized yield, is a computation that allows comparison of bond funds that fall under the jurisdiction of the Securities and Exchange Commission (SEC).
It assumes that an investor holds each bond in a portfolio to maturity, the SEC yield is used to estimate the yield an investor can expect to receive based on historical returns.
---
Edited by Raunak Karwa
Let's connect, I always love hearing from you. Hit me up at Raunak_Karwa on Twitter or Raunak.karwa@finlearnacademy.com
---