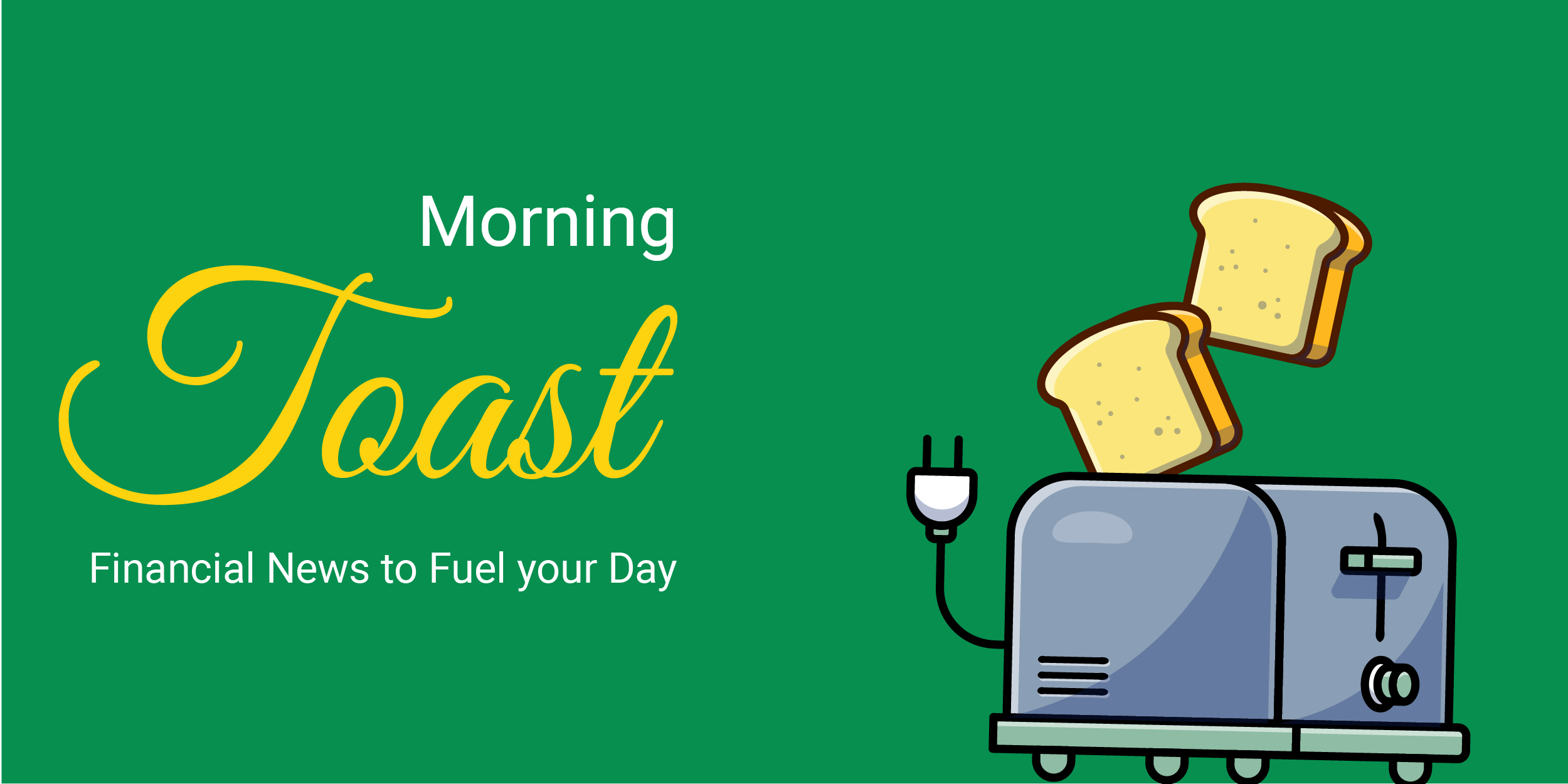 INR Touches All-Time Low Of 79
FinLearn Academy
Good Morning Toasters!
Hellow friends!! Once again, news related to the rupee depreciating against the USD dollar is all set to pierce through our ears🤕. The Indian rupee breached the 79 a dollar level for the first time on Wednesday, due to a combination of factors like elevated oil prices, inflation and heavy outflow of foreign investors from the equity markets, and RBI's FX stance.
Enterprise communications service provider Route Mobile's board has approved the buyback of up to Rs 120 crore at a price not exceeding Rs 1,700 per equity share via the Open Market Route.
Billionaire Mukesh Ambani stepped down from the role of director of Reliance Jio as a part of their succession planning and appointed his son Akash Ambani as the chairman of the board of Reliance Jio. Similarly, his twin sister, Isha Ambani is all set to lead Reliance's retail arm. Interesting right?
And finally, we've started a rollout of our newest product, Trade:able, that aims to democratise trading, via a unique and fun learning experience. There are a bunch of amazing rewards and prizes to win. Click here to know more.
---
Market Watch
Nifty 50: 15,799.10 | -32.95 (-0.21%)
FII Net Sold: INR 851.06 crore
Sensex: 53,026.97 | -134.31 (-0.25%)
DII Net Bought: INR 847.46 crore
---
Economy News
INR touches an all-time low of 79; what's up and what do you need to know?
The global FX landscape is undergoing dramatic shifts, with the most lenient (non-rate raising) economies (Japan etc) also feeling the pinch of inflation and tightening financial conditions (US Fed tightening liquidity)
And INR's fate has been no different, down 5.6% against the USD in the past year, India's currency last week saw a fresh all-time low of 79, led by a combination of –

Worsening external terms of trade, led by oil
The fast-changing global risk environment
Sharp Foreign Portfolio Investor (FPI) equity outflows, one of the worst in the Emerging Markets Asia pack
And the RBI's FX stance (more on this below)

The RBI has been supporting INR by strong interventions to counter the impact of outflows
Leading to a significant fall in FX reserves, but with a robust accumulation of FX war chest by RBI, the INR is still holding up better than other Emerging Market Peers, whose currencies have depreciated in far greater measure
Okay! Kindly share more information, please? (Don't know what to make of this)
Looking at past depreciation cycles, 2013 saw an aggressive interest rate hike or taper tantrum to protect the INR from speculative positioning, while 2018 saw a relatively shallow rate hike cycle
In contracts, 2022 RBI has been more vocal about protecting INR from speculative positioning and volatility, via a mix of open market purchases (providing support to the INR) and rate hikes (with promises to not overdo, once inflation seems to be under control)
That being said, given the worsening global macro environment (oil et al), coupled with forwarding purchases of equity to mask actual equity outflows, INR is expected to remain under pressure for the foreseeable future
Likewise, historically INR has moved in sync with the Balance of Payments Deficit (diff. Of payments in & out of a country), with the BoP deficit expected to touch USD 61 Bn or 3.2% of CAD / GDP, INR will likely remain weak going forward
And what does this mean for me?
Exports will likely continue to get cheaper, while imported items including oil and edible oils will get more expensive as INR devalues against the base currency (USD)
In the short-term, given countries have refrained from buying Russian led oil, India has benefitted, increasing purchases multi-fold since the crisis started, keeping fuel prices in check (for the time being)
---
If you're interested in financial news & analysis, and wish to receive this email in your mailbox consistently, click here to Subscribe Now
---
Around the World 🌎
Juul unhappy with FDA – Juul Labs Inc. said the Food & Drug Administration failed to consider their evidence which proved that the public health benefits of their products outweigh the risks and ordered their products off the US markets. Juul won a temporary stay order in a federal court and is asking the court for a longer stay to delay the market denial order. The FDA can respond to their order till July 7 and Juul has until 12 July to reply
Pinterest bids adieu – Ben Silbermann, co-founder and CEO at Pinterest will now take over as executive chairman and will be replaced by Bill Ready, who was formerly the president of commerce at Google (along with major positions at Paypal and Venom). His main role is to boost revenue beyond its initial advertising-centric model to include e-commerce initiatives. Shares rose > 5% in early after-hours trading following the news
EY in a major scandal – In what is being called the largest fine ever imposed on an audit firm, EY was charged by the SEC after it admitted that some of its auditors cheated on exams in recent years to the tune of $100 million. This could complicate existing efforts of splitting the auditing and advisory business. EY will also be required to pay for two separate compliance reviews conducted by outside firms
---
Corporate Development
Route Mobile Board approves buyback
In a regulatory filing, the Board of the recently listed Route Mobile Technologies approved a buyback via the Open Market Route for a max size of 1.12% of the total fully paid up equity shares
Informing the exchanges, the company earmarked INR 120 Crores (at the higher end) towards the buyback, at a price not exceeding INR 1700, which represents ~29% of the premium to the CMP of INR 1322
Further, the company barred Promoters, Promoter Group and Company Personnel from participating in the buyback, leading to ~2.8% of the Non-Promoter Group's participation
The company is yet to release the start and end date for the buyback, and yet the stock is up 19% in the last 5 days, with declines since the announcement of 3.2% and 2.8% respectively
RIL Chairman begins succession planning
In an untypical fashion (:P), the main man at Reliance Industries kickstarted succession planning, elevating his son, Mr. Akash Ambani to the post of Chairman at Jio Infocomm, resigning from his position in the process
Instrumental in securing investments from Facebook and Microsoft, Akash has been on the board of Jio Infocomm as a Non-Executive Director; RIL owns ~67% in Reliance Jio, with Mr. Mukesh Ambani continuing to remain, Chairman of that company (Jio fully owns Jio Infocomm)
In other news, Akash's twin, Isha is expected to be named as Chairwoman of Reliance Retail, as a bifurcation in businesses & responsibilities become clearer among the siblings
The succession comes at a pivotal time for the behemoth, with Reliance Jio now poised to undergo massive capital expenditure as the Telecom Ministry kickstarts 5G Auctions; Reliance Retail has built out a massive brand portfolio, with markets expecting increased EBITDA contribution at the group level
---
What else caught our eye? 👀
India takes back its ban
The GoI is considering allowing exports of stocks of raw sugar that have piled up in ports and warehouses, weeks after it imposed curbs on overseas sale of the commodity
In a bid to prevent a surge in domestic prices (amidst surging food inflation), this season's exports were capped at 10 million tonnes last month
Raw sugar futures, which are trading near their lowest in four months, could be heavily impacted by the move
TCS rocks again
The Microsoft Partner of the Year Awards perceives Microsoft accomplices that have created and conveyed exceptional Microsoft-based applications, services and devices during the previous year
Tata Consultancy Services (TCS) has won three 2022 Microsoft Partner of the Year Awards in the categories SAP on Azure, Retail & Consumer Goods, and Global SI & Advisory Digital Transformation
In 2021, TCS has won two 2021 Google Cloud Partner of the Year Awards: Industry Solution Partner of the Year for Retail and Global Diversity & Inclusion Partner of the Year
---
Educational Topic of the day
Portfolio Rebalancing
Portfolio Rebalancing is a strategy of realigning the securities weights in a portfolio to maintain the target asset allocation and risk profile. It involves selling a few investments and buying to increase investment in existing securities or adding funds to purchase new securities strategically.
---
Edited by Raunak Karwa
Let's connect, I always love hearing from you. Hit me up at Raunak_Karwa on Twitter or Raunak.karwa@finlearnacademy.com
---