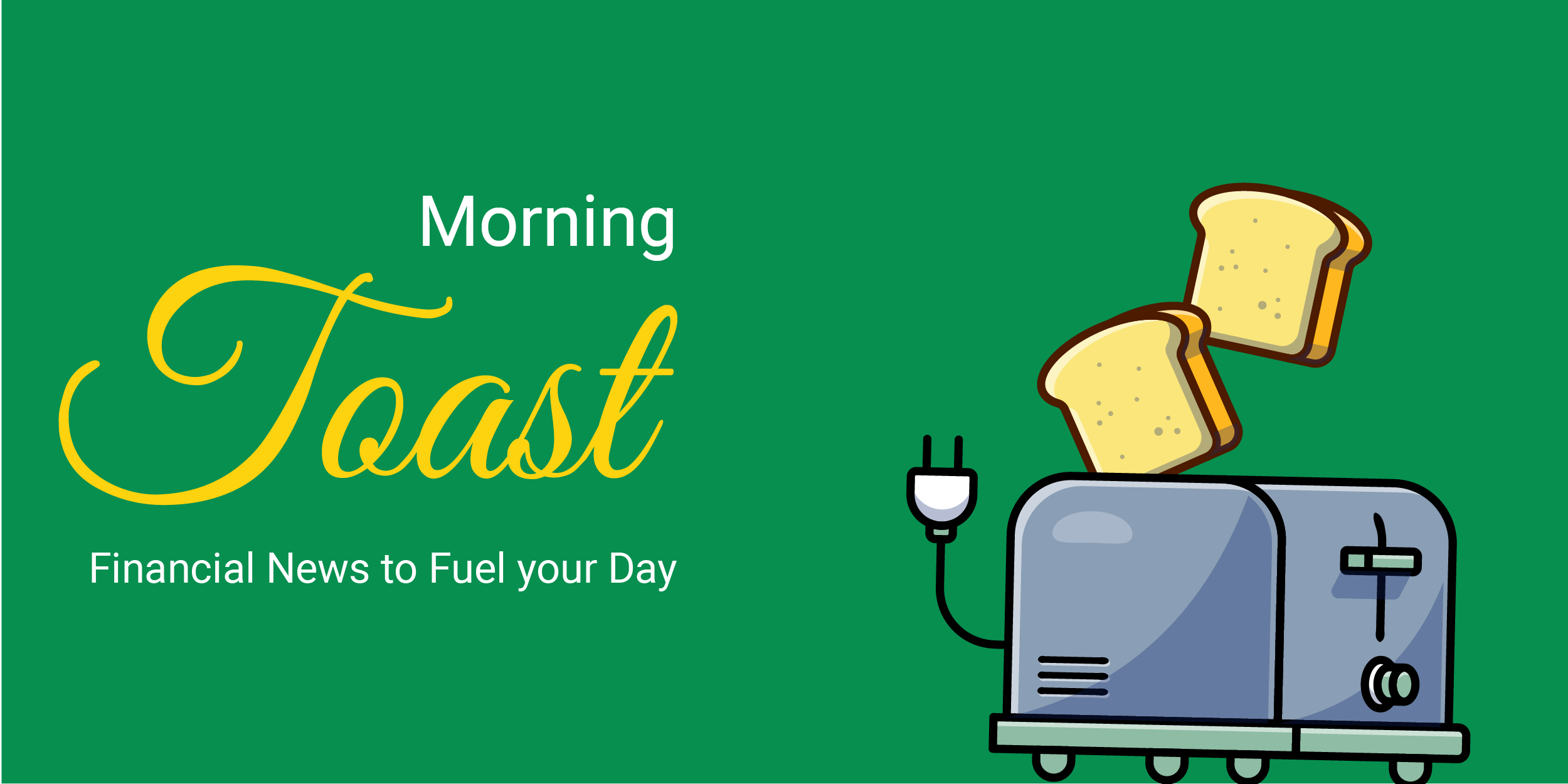 Real Estate Cycle Intact?
FinLearn Academy
Yesterday's Market Performance

Nifty 50: 18,003.30 | +190.60 (+1.07%)
FII Net Sold: INR 124.23 crore
Sensex: 60,395.63 | +650.98 (+1.09%)
DII Net Bought: INR 481.55 crore
---
Howdy Toasters!
In today's issue of the Morning Toast, we discuss:
Motherson Sumi restructures to maximise growth potential
Real estate riding strong
An education concept to keep you chugging along
---

Motherson Sumi restructures to maximise growth potential; What's up and what do you need to know? 🤩
Motherson Sumi hosted an analyst call to share strategic objectives & information on proposed restructuring exercise. 
What's happening & Why?
The company has proposed a restructuring exercise, incorporating two entities – MSWIL (domestic wiring harness business) and SAMIL (new name for existing listed entity after the demerger of domestic wiring harness business and merger with parent entity)
SAMIL shares will trade ex-MSWIL from 14th January and the merger with the promoter entity is expected to take place on 24th January
MSWIL's listing is expected in mid-March, subject to regulatory approvals
Why?
Primarily driven to enhance interests of all stakeholders, the transaction is expected to be earnings-accretive for minority stakeholders
From a business perspective, splitting up core businesses into two distinct entities, is likely to result in better content per vehicle (vehicles are assembled, the more parts you supply, greater your content contribution), significantly driven by the increasing EV penetration (as per management)
Interesting! Tell me more? Global Demand, Company Info et al. (You know the drill :P) 🧐
SAMIL
The global high-voltage wiring harness market and power electronics market is expected to grow to US$7bn in 2028 and US$81bn in 2030 respectively
The automotive software and electrical & electronic components market should grow to US $469 bn by 2030, implying a 7% CAGR over 2020-30
For SAMIL, EVs have a huge role to play with –

27% of the order book (of EUR 15.3bn) coming from the SMR PBV (subsidiary) + it now owns more than one-third of the market share for exterior mirrors
Adoption of new technologies (light-weight mirrors and camera monitoring systems) has also increased content in SMR
PKC (subsidiary) has seen multiple order wins for wiring harness for electric trucks and buses globally
In Precision Metals, specialized solutions for EV-specific requirements have been developed (such as HVACs for E-buses in India)

Being powertrain-neutral, over 98% of the product portfolio is favorably positioned for upcoming mega-trends for SAMIL
Focus is expected to remain on India (20% revenue + 40% profit contribution in H1FY22) and other Emerging markets (57% revenue contribution)
MSWIL
EV Penetration should lead to higher content per vehicle, with the company winning orders for E-PV components from multiple OEMs
The support of the parent company (Sumitomo Wiring Systems) will be in the form of –

Component Supplies
Technical Assistance
New Tech products including gateways, Junction Box etc
Nice! Final thoughts? Stock price, longer term vision, valuations? 🙄
The proposed restructuring, with distinct business lines creates a platform for future growth through inorganic & organic routes (we believe), with the exercise likely a positive step towards Vision 2025 – USD 36 Bn in Revenue & 40% RoCE
From the current activity, EPS accretion is expected for minority shareholders. (Past 12 months ending Sep'21, EPS accretion stood at ~5%)
Keep a track?
---
Like our news coverages?😍 Become a part of our fam, subscribe to our newsletter. Subscribe here
---

Real estate riding strong; what's up and what do you need to know? 🤯
Recent quarterly sales updates and performance of top projects shows clear evidence of broad based demand existing across segments & project life cycles
Key projects include the Oberoi – Elysian, Sky City Borivali and now the late-cycle Mulund projects also gaining momentum, driving overall sales in 3QFY22
Macrotech – can boast of  robust traction intact across portfolios, i.e. ready inventory sales in South/Central Mumbai and performance of new launches in mid-income to luxury projects in Thane/Kandivali
DLF likely to retain its strong sales momentum in its uber-luxury project Camellias  (estimated 20 units sold in 3QFY22)
Prestige Bengaluru launches witnessing >50% sales-to-launch ratio and Sunteck's affordable segment Vasind launch likely >70% sold out
Birla Estate's Worli project has garnered a very strong response with >50% EOI for the units launched as per our market survey/channel checks
What about the overall market? 🤩
Strong underlying demand can be seen even in the absence of any sops (stamp duty cuts)
New launches in CY21 (as of Nov '21) for Tier 1 cities running at ~75% of total absorption, MMR at 70%, Bengaluru at 64%, and NCR at 80%
The share of listed developers in terms of overall absorption is growing but remains low (~10% Pan India), implying a sizable market share opportunity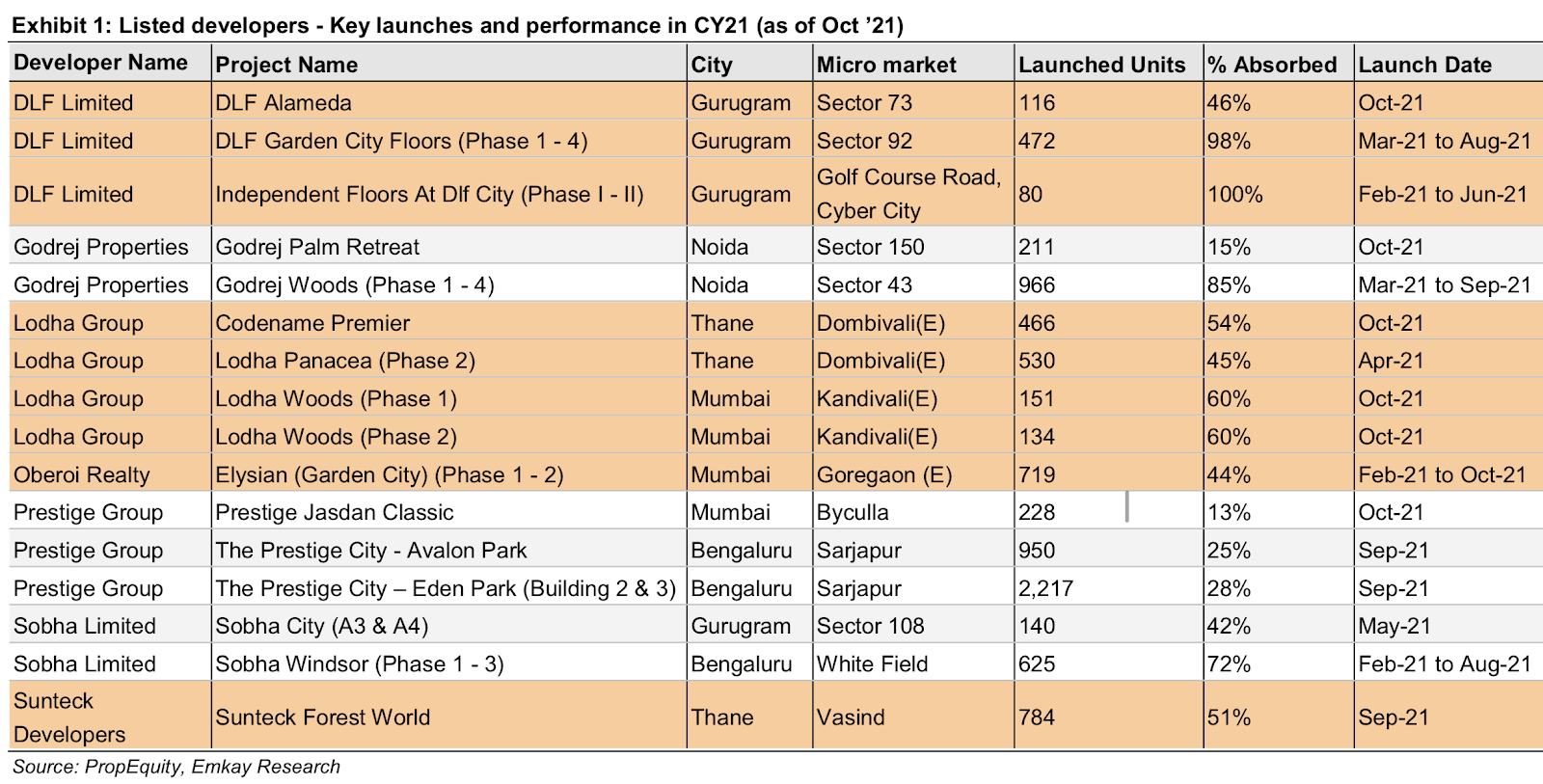 Any favourites? 🧐
Macrotech has signed 4.8msf of JDAs amounting to a GDV of Rs100bn in 3QFY22 (Overall JDAs now at 11 projects with a cumulative GDV of Rs145bn)
The average price of JDA signed during the quarter is nearly 2x at Rs21k/sf vs. the JDA entered in H1, implying a mix of JDAs signed in South Central and Western suburbs of Mumbai
Overall sales increased 30% QoQ and 40% YoY
And? 🤩
Oberoi posted stellar sales in 3Q at Rs20b, >2x QoQ/YoY with a  full-year sales forecast of Rs30bn.
Elysian (Goregaon) is expected to lead the charge with the total sales-to-launch ratio likely to be at ~60%.
Increased contribution from Mulund is also expected as it is nears the completion stage.
Keep a track?
---
What else caught our eye? 👀
Third wave hitting cinemas hard
It is expected that third wave of the coronavirus will push recovery in multiplexes by upto five months
This comes in line with the governments across the country temporarily shutting down cinemas to curb the spread of the virus
But in better news the recovery is expected to be sharp once cinemas are given the green signal to reopen
Bitcoin facing the blues
$BTC fell to its lowest in 5 months by tumbling down to less than $40000
Fed's remarks about raising interest rates as well as political events in Kazakhstan seem to be potential factors influencing the same
Kazakhstan accounts for a fifth of the world's bitcoin mining due to its cheap electricity
Some exciting news on the gold front!
SEBI has come up with a framework for operationalizing the gold exchange where it will be traded in the form of electronic gold receipts (EGR)
The new framework will come into force with immediate effect – said a notification from SEBI
Under the new framework, the entire transaction has been divided into three tranches– the creation of EGR; trading of EGR on the stock exchange, and conversion of EGR into physical gold
---

Tuesday, 11th January: Delta Corp
Wednesday, 12th January: Tata Consultancy Services, Infosys, Wipro
---

Stochastic indicator
The stochastic oscillator, also known as Stochastic indicator, is a popular trading indicator that is useful for predicting trend reversals. It also focuses on price momentum and can be used to identify overbought and oversold levels in shares, indices, currencies and many other investment assets.
---