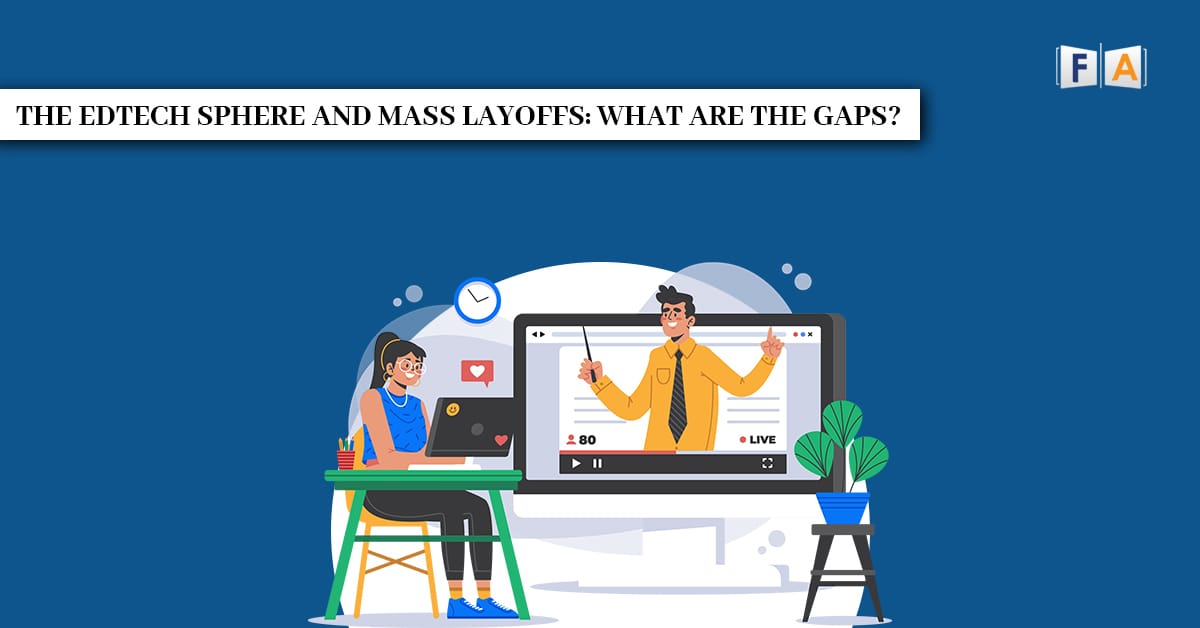 The Edtech sphere and Mass Layoffs: What are the gaps?
As the year 2021 ended, it seemed as if nothing could ever go wrong with the Indian edtech sector. It was riding on an unprecedented funding boom. More than $4.7 Bn in funding across 165 deals and edtech players offering sops to retain teachers and talent, it emerged as the third favourite sector for investors that year. And why not! It was growing at a breakneck speed and the road ahead looked promising. But 2022 came along and completely turned the tables!
This year,
45% of the 15,000+ layoffs witnessed by the Indian startup ecosystem came from the edtech sector 

BYJU'S delivered the largest number of them, firing nearly 4,000 employees across its subsidiaries

The funding winter also forced four edtech startups – Lido Learning, Crejo.Fun, Udayy, and SuperLearn – to shut operations
So, what's happening?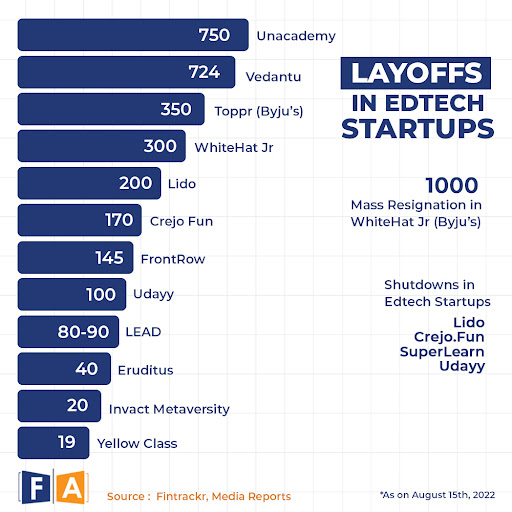 Edtech giant BYJU'S announced an $800 million funding in March this year but the company is yet to receive nearly $250 million of those from two of its investors.
As per the latest reports, Byju's laid off 500 employees across its group companies and said that it was "optimising" its teams. The online coding provider WhiteHat Jr, an acquisition of Byju's, also laid off around 300 employees after more than 1,000 of them had already resigned when asked to return to office. Unacademy too fired people in early April and many other companies followed suit.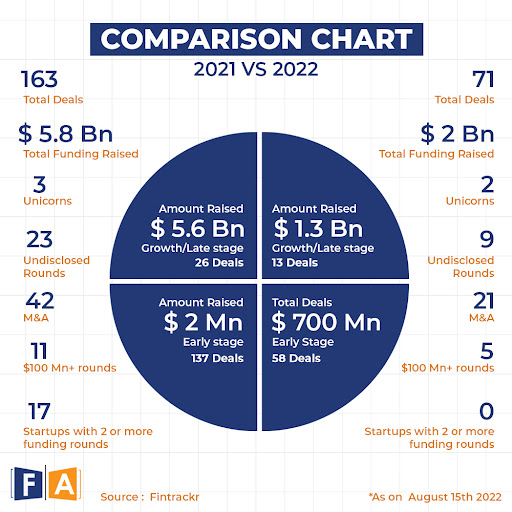 But what's the reason behind these lay-offs? Does this mean that the country's edtech bubble is about to burst?
Well, BYJU'S spokesperson attributed the delay to macroeconomic reasons. 
He said that in order to reduce redundancies across their organisation after multiple acquisitions, they had to let go of one percent of their 50,000+ workforce. This retrenchment was a result of a strategic decision to improve business efficiencies throughout Byju's and its group companies. He also mentioned that Byju's remains a net hirer. With 50,000+ employees and growing, they are India's largest job creator among startups and continues to hire for various businesses, departments and functions.
But, what do the experts say about it?
Experts say that tech-enablement in every aspect of human life is here to stay, that it will grow at a phenomenal pace and that the last two years have been a prelude. 
But, and here's the catch….
"In the process of hyper-growth, some companies have had a bit of unplanned growth and some of them are re-pivoting their business model. Secondly, the investors have started reviewing their portfolio of investments in the backdrop of inflationary pressures and the post-pandemic developments of social norms," said Aditya Narayan Mishra, the director and CEO of CIEL HR Services.
He said that these situations are causing volatility in the sector. As customer behaviour is being reshaped into a new normal, it is challenging some of the edtech companies' assumptions. "New experiments such as offline delivery methods are being tried out. This move by companies reflects the uncertainty and volatility. We believe this is just a temporary blip. This will settle down soon; long-term prospects continue to remain strong," added Mishra.
Over hiring, overspending, and acquisition(s) backfire
Was this decline foredoomed?
The edtech sector no doubt benefitted from the lockdown era. Companies were able to onboard scores of new customers easily and at very low costs. Abundance of capital led to overboard hiring patterns and many companies grew too big in too short a span of time. Afterall, the tech spend was expected to see rationalisation and the industry needed growth pangs and course correction. Now it is expected that the edtech space in India will move towards consolidation. There will be oligopoly and only a few big players will remain. Growth will also slow down as the pandemic recedes because people will prefer face-to-face coaching and tuitions.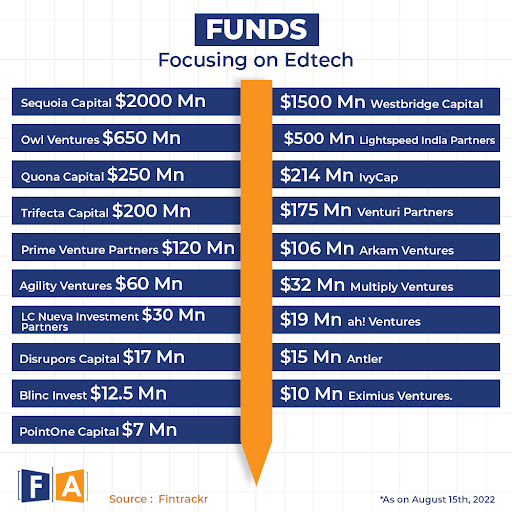 Tough lessons for edtech
The layoffs at Byju's aren't specific to one company. Other edtech start-ups are facing similar issues, with an estimated 4,000 employees being fired in this year alone.
Unacademy and Vedantu lost more than 600 employees. Eruditus, Frontrow, Invact Metaversity and Yellow Class are downsizing and Udayy and Lido Learning shut shop.
The Indian edtech industry witnessed a dream run, churning out four unicorns in two short years as the COVID-19 pandemic forced schools and colleges to remain shut. We saw it, the enthusiasm was so high that in 2021, it was the third most-funded sector and raised over $4.7 billion.
But as an edtech entrepreneur explained, the students are returning to schools and colleges after almost two years of pandemic and parents are hesitant in signing up for online classes. "There is this feeling of missing out, especially in the case of parents with younger kids. They are concerned that the kid's confidence and social skills will take a hit because they have not socialised for the last two years."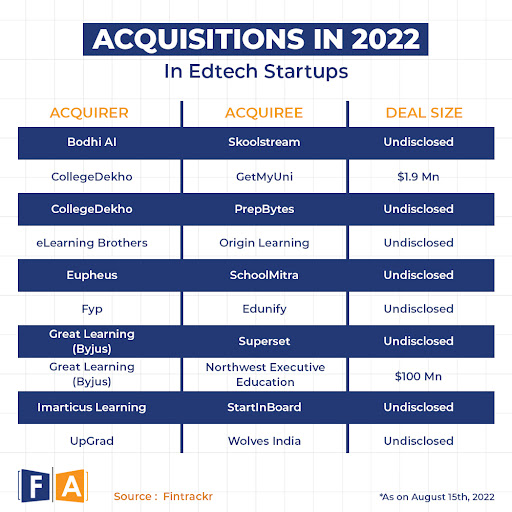 Conclusion
The EdTech sector capitalised during the pandemic, where many businesses had to close their doors. They not only were able to survive, but were able to experience a boom, create jobs and offer investors a great avenue to invest.
With the lockdowns being lifted across the nations, and people gradually moving away from an online-only world, the EdTech sector needs to find out new ways to tackle the multiple issues while also keeping its customer acquisition costs low, and to offer the same (or better) benefits the more traditional form of learning offers.
---