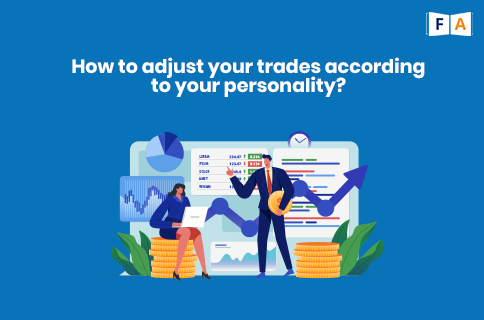 How to adjust your trades according to your personality?
FinLearn Academy
The ordinary trader has a terribly erroneous understanding of what a trading strategy is. A trading strategy isn't something you learn on a trading forum or on Twitter; it's a collection of tried and true rules and concepts that must make sense to you and match your trading style. One of the key reasons why 99 percent of all traders fail is because they choose a trading strategy at random and blindly apply it to their charts. Here's how a trader's personality influences the parameters of a trading strategy and what to be mindful of when it comes to your approach –
Identifying your personality type is the first step in identifying the best trading strategy for you. Trader personalities may be divided into three categories:
Aggressive – In trade chats and on social media, think of a chest-pounding alpha male who always has the final word. He's simple to detect since he loves to brag about his enormous bets and big victories, but he also wants to dazzle with huge losses he's taken as a true gentleman. He frequently posts photos of beachside mansions, fast sports vehicles, and pricey evenings out at the most exclusive restaurants and cool nightclubs on social media. He's the type of trader who either succeeds or fails.
Greedy – The Scrooge enjoys discussing risk and Money Management. He is a statistician who prefers to play things safe. When speaking with a greedy trader, he will frequently discuss deals in which he has already locked in profits with a stop loss above breakeven or where he has taken partial winnings. Only a few times will you hear Scrooge brag about huge winnings or all the money he's made. A greedy trader has control, risk, gradual but consistent gains, and constantly has his finger on the mouse.
Anxious – The jittery trader routinely discusses setups and possible trades that he notices on his charts. He frequently posts screenshots of deals that are 'nearly ready to execute,' but that he is awaiting confirmation on. A nervous trader can generally be identified because he will either not enter the deals that he discussed because they 'didn't feel right,' or he would place a trade late because he 'wasn't sure.' Another characteristic of the too worried trader is his or her frequent questioning and seeking out other people's viewpoints.
How to adjust your trades according to your personality?
Finding the Trade
The frequency with which you locate a trade is determined by the period you use. Unlike the 4 hour or daily timescales, which may only create one signal every one or two weeks, the 1 hour or 30 minute timeframes may generate a fresh entry signal every few hours or once per day. If a really hungry or aggressive trader can only locate one trade per week or two, he may be tempted to break trading rules in order to produce additional deals.
A worried trader will miss setups frequently due to his nature, and trading high timeframes will result in extended periods of not trading and a lot of time spent berating himself for missing another trade. Trading smaller periods, on the other hand, may easily lead to overtrading for the aggressive or greedy trader. Lower timeframes may be a good fit for the worried trader since he will see fresh possible setups often, and losing a single trade will not have as significant an impact as it would on higher timeframes.
Holding the Trade
Trade Management issues arise as a result of the holding duration and investment horizon. Greedy and aggressive traders prefer to increase the size of their take profit orders because they feel a transaction has a high potential for profit. As a result, even when their trades have already exceeded their initial take profit order, such traders will frequently find price reversing and handing back winnings. An anxious trader is always fearful of a reversal, therefore he will terminate deals before the take profit objective, cut winnings, and so reduce the expected return on his trading plan.
In general, the longer a deal is held, the more likely it is for a trader to mess around with it. As a result, it's critical to be mindful of how you handle transactions and discover the best solution.
Conclusion
Finding a Trading Technique entails more than simply following traders who promise to make a fortune on forums or social media. A successful trading strategy must be tailored to your personality and character attributes as a trader. Losing money in trading is thus due to a mismatch between the trader and the Trading approach, rather than the trading strategy itself.
---