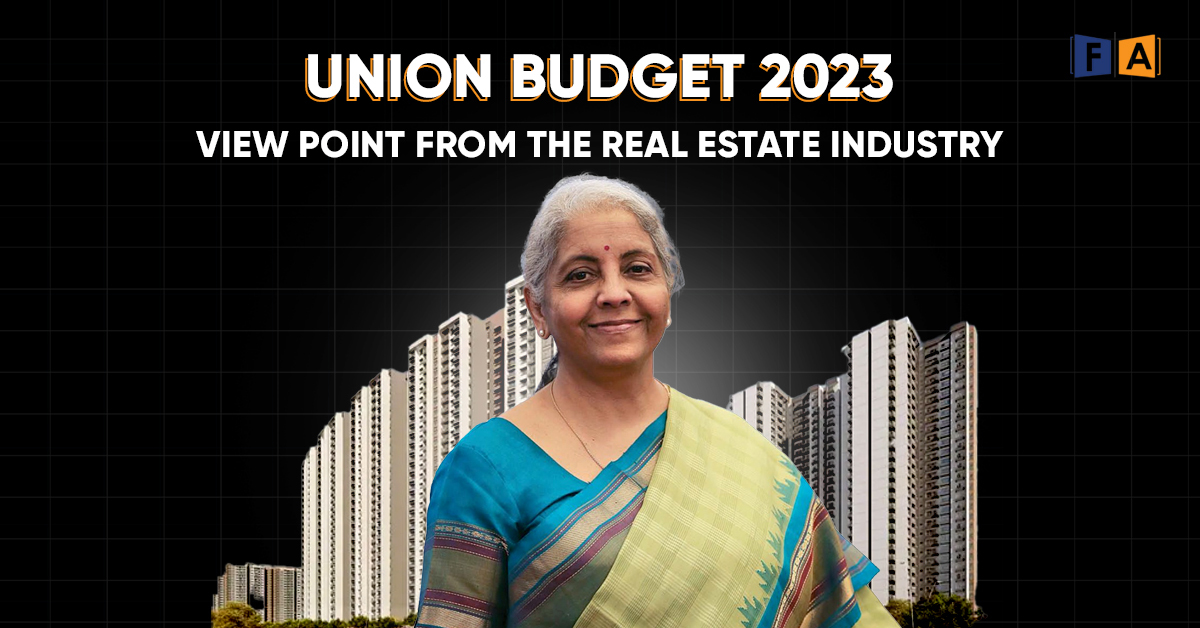 Union Budget 2023 – View Point From The Real Estate Industry
FinLearn Academy
The Housing for the All Program is getting a boost
However, the fact that the income tax-free refund increased from Rs 5 lac to Rs 7 lac is a positive move. Chances are, this will allow homebuyers to invest more in a project. A 66% increase in Pradhan Mantri Awas Yojana (PMAY) allocation to Rs 79,000 crore for the next financial year is expected to meet approximately 55% of the project's estimated funding shortfall under this particular program. But the real estate industry still has a lot of work to do to reach its goal of providing housing for everyone. States need to kickstart affordable urban and rural housing. The reach of the PMAY system should be slightly expanded to allow middle-income groups to opt for the economically weaker segment (EWS) and low-income (LIG) systems.
Rising mortgage rates are still a sore spot
Rising interest rates will affect the cost of affordable housing, which has steadily increased in recent years. As a result, your monthly mortgage instalments (EMI) will increase by 2-4 percent accordingly. Taking housing demand into account, the budget could allow certain deductions for home purchases and mortgage rescheduling. The move may have given homebuyers some peace of mind. There is an urgent need to focus on affordable housing while attracting more investment to this particular segment. Rising mortgage rates are slowing the pace of development in the affordable
Additional taxes on REITs and InvITs are dampeners
Investment returns could be hurt as the budget proposes taxing the repayment of debt held by shareholders of real estate investment trusts (REITs) and infrastructure investment trusts (InvITs). InvIT has grown in the last two years.
Infrastructure development for making steam
This budget provided a good opportunity for the government to bring its development agenda to Tier II and Tier III cities. A 32% increase in capital expenditure of INR 11 crore for infrastructure development could boost the development of such Tier II and III cities.
The increased allocation of Rs 1.72 crore to the state's National Highways Authority of India (NHAI) will strengthen the urban infrastructure.
While the direction is right, the pace of completion of infrastructure projects leaves much to be desired. There is another need to evaluate seamless field runs.
More pressure is needed to support the MSME sector
In the Union Budget 2022-2023, the government announced various measures to stimulate the development of the MSME sector, including:
Provide 15,700 rupees ($2.1 billion) to be allocated to the MSME sector in the upcoming financial year.
Expands the One County, One Product (ODOP) program to 7,500 new products, intending to promote entrepreneurship and local manufacturing.
Nifty Realty Index Top constituents by weightage
The index comprises 10 companies listed on the National Stock Exchange (NSE) of India.
| | |
| --- | --- |
| Company's Name | Weight(%) |
| DLF Ltd. | 25.45 |
| Phoenix Mills Ltd. | 15.31 |
| Godrej Properties Ltd. | 14.67 |
| Oberoi Realty Ltd. | 11.67 |
| Macrotech Developers Ltd. | 11.55 |
| Brigade Enterprises Ltd. | 7.37 |
| Prestige Estates Projects Ltd. | 6.66 |
| Indiabulls Real Estate Ltd. | 3.21 |
| Sobha Ltd. | 2.43 |
| Sunteck Realty Ltd. | 1.7 |
---