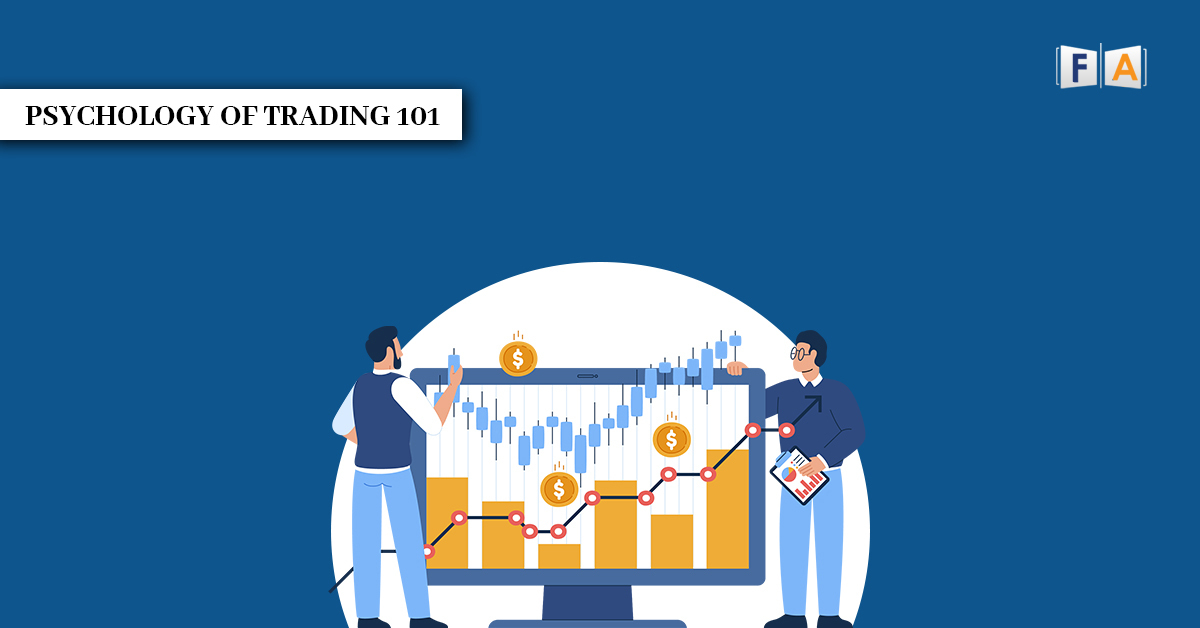 FinLearn Academy
Introduction
Do you know what are the traits of a trader and a professional trader? A professional trader has a logical rule-based approach to decision making, has a trading process and trading is a business and not just any activity. He has the ability to analyze charts, and understand the market sentiment, he is not carried away by the emotion of fear and greed
The most important learning a trader ignores is trading psychology. Trade decisions should be taken keeping in mind, trading style, risk appetite, risk management rules and position sizing and all decisions should be guided by trading psychology which is knowing oneself and taking the assessment of the mental state or mind in trading. The most important aspect for a trader in any asset class is to understand trading psychology and the role of the mind in the trading process. A trading process consists of high-quality preparation, effective execution and constructive self-assessment. The inner games in your mind play a critical role at each stage.
What is trading psychology?
Trading psychology refers to the mental and emotional state and the behavioural trait a trade has that will be responsible for the outcome of the trading business. A mind which is speculative in nature will result in an unfavourable outcome whereas a mind which follows the process of trading will have a favourable outcome. Knowing trading psychology is as relevant and important as having market knowledge and experience. Professional traders are fully aware of the inner self and have worked hard to keep their emotions in check and decisions are based on sound logic.
Trading psychology is conditioning your mind to be logical and not get carried away by the emotions of fear and greed
Trading psychology involves having a rule-based approach and conducting the trading business with a prepared plan known as a "Trading Plan".
Trading psychology involves motivating yourself, goal setting and achieving them, designing your environment and taking responsibilities
Some emotions every trader & investor goes through
Fear: It is said to buy the fear and sell the greed but in actual situations, instead of being confident in our trading we become pre-flexed and afraid. It would be in form of a decline in prices. When we undergo fear one should get out of the trade with a small profit or a loss and should not stay in a trade.
Euphoria: When our investment or trading profits turn into quick and easy money on getting the direction right we at this stage ignore the basic concept of risk and also take regular profits. We trade anything and this translates into overtrading.
Optimism: The emotion of optimism starts with a positive outlook which influences us to buy a stock or security.
Excitement: When situations are favourable and we are having trading profits we get carried away.
How to overcome such situations while trading & investing?
Master your emotions and you will be successful in the trading business. Learn to control your emotions. Stay away from herd mentality. Set a time-bound process for creating and fine-tuning your trading system. Have a trading plan based on your financial returns expectation and appetite for risk and your trading experience.
Use the triangle of strength that is:
Positives: What is going well for you and is working
Strength: What are your strengths and how can you use them
Controllable: What can you control right now and what is in your hand and what positive decisions you can take right now?
Conclusion
Having the right mental conditioning is key to a successful trading career. Be practical be logical and incorporate the successful traits of a professional trader. Decisions should be planned and executed without emotions. Let go of old habits and old behaviour and incorporate new behaviour and adopt and accept the same. Let go and cut yourself from negative beliefs. Understand the situation and have appropriate behaviour and plan-based trade action. Work on your trade plan, make rational decisions, balance your emotions, and set in a process of continuous assessment.
Previous
November 30, 2022
---