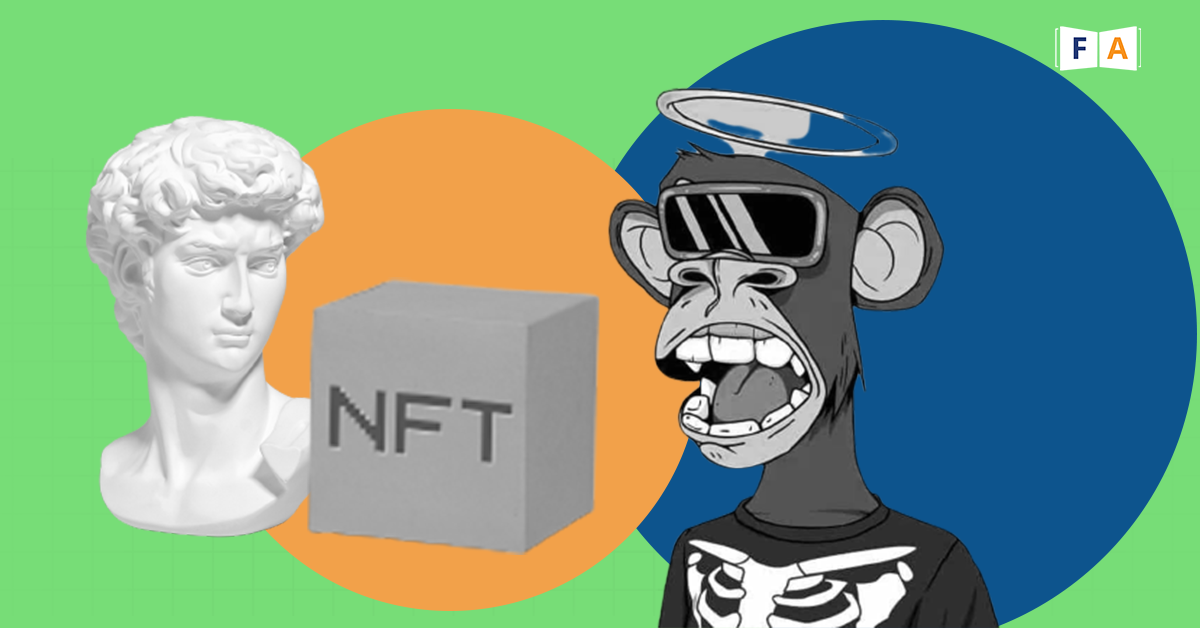 Demystifying NFT (Non- Fungible Token)- A Beginner's Guide
FinLearn Academy
What is a NFT?
NFT stands for a non-fungible token. The word 'fungible' means replaceable and so a non-fungible token is any asset that can't be interchanged (unlike say, a bitcoin) because of its unique identifying code.
According to Forbes, a NFT is a "digital asset that represents real-world objects like art, music, in-game items and videos. They are bought and sold online, frequently with cryptocurrency, and they are generally encoded with the same underlying software as many cryptos"
What's the tech behind it?
The Ethereum blockchain supports most of these NFTs by storing some extra information that enables it to function differently than the ETH coin.
Each NFT contains non-replicable data that differentiates it from other NFTs. Thus, it becomes very easy to keep track of ownership and removes the need for third-party verification. 
Where's the value and what's the hype?
NFTs have been around since 2014 but they recently came into the trend with people selling their digital art through these tokens. More than $200 million have been spent on digital art NFTs since 2017.
Other possible objects include GIFs, Videos and sports highlights, Collectibles, Virtual avatars and video game skins,  Designer sneakers and Music.
Through a NFT,  one is essentially buying the exclusive ownership of a particular asset. (Point to note: It is still possible to download a copy of the artwork from the internet, but they won't be own the actual original artwork) 
How do the artists benefit?  
Through NFTs one can sell artwork in a verified manner without an auction house or gallery thus cutting costs majorly. 

The artist also has the opportunity to earn through a royalty system. Unlike traditional retail where the artist has no control over the resale of their piece, the NFT technology allows them to keep track of future sales of their work, and receive a percentage every time a new owner comes into play. 

It gives an audience for slightly out-of-whack ideas (like digital stickers, gifs etc) that would not have been sold traditionally.
What about the buyer?
There are two reasons one would buy a NFT:
For collection: This includes supporting your favorite artists or genuine appreciation for the asset. (like fine-art collection) 

For speculation: Like other speculative assets, people may buy in hopes of a price appreciation.
Other popular NFTs:
The CryptoPunks: 10,000 individual and unique characters that each have a sole owner. 

The Sandbox:  A blockchain-based virtual gaming world

Axie Infinity: A blockchain-based trading and battling game inspired by Pokemon.

Chiliz: A fan engagement and rewards platform
Some crazy NFT deals so far:
An artist called Beeple sold his painting called "Everydays: the First 5000 Days" for $69.3 million (~INR 500 crores) 

Twitter's CEO and Founder sold his first ever tweet for $2.9 million.

Cryptopunk #3100 was sold for more than $7 million.
What can be converted to a NFT?
Digital art 
Digital music
Virtual real estate 
VR wearables
Gaming assets (like Axie Infinity)
Event tickets / Attendance receipts
Subscription badges
Blockchain domain names 
Tokenized luxury goods, e.g. wine
Tokenized insurance policies 
Many more! Basically if you can think of it, you can create it!
(Source: https://mintable.medium.com/how-to-create-your-own-unique-nft-6057a09500ea) 
How the world does it? 
Open Sea is one of the world's most popular NFT trading platforms (average 24 hour trade volume of USD 3-5 million).  A transaction fee of 2.5% is charged from the seller (along with the gas fees associated with the minting of the token). The buyer is not liable to pay any transaction fees.
Other popular trading platforms include Rarible – a Moscow based trading platform with a avg 24 hour trade volume of USD 1.5 million, with a transaction fees of 2.5% charged from the buyer and seller in addition to gas fees. Rarible also has its own token called RARI.
NFTs in India:
The story of NFTs in India is quite similar to that of Crypto – it is largely unregulated. While more platforms for NFT trading are emerging, there are two which are most popular currently:
WazirX recently launched India's first NFT trading platform which will run on parent company Binance's blockchain (which is the world's highest-volume crypto-exchange), and will feature works from South Asia's top artists and musicians. It has 15 creators on its platform now, and another 300 shortlisted. Currently it only offers a fixed price sale, but may look into a bidding model soon.
The platform will have rewards and cashback worth $50,000, no listing price, and will offer a minimal gas fee of $1 for transactions. ( Gas fees is the money that NFT trading platforms charge)
NFTs on the WazirX marketplace can be purchased only through the platform's native token WRX, with one token currently worth around Rs 104.
Following their footsteps, OKEx (second to Binance) has also launched its NFT trading marketplace called Defi Hub. Creators will be given the flexibility to set their own royalty fees, and users need to connect their decentralized wallet to the platform to access the assets. 
NFT adoption in India has been both slow and fast – and a large part of this can be attributed to the asymmetric digital infrastructure. Top metropolitan cities like Delhi, Mumbai, Bangalore etc have artists exploiting this opportunity. On the other hand there is still a long way to go for local artists residing in rural areas to make this a viable income source. The steep learning curve in terms of the technological and financial aspects, as well as the government's silent stance do not aid the situation.
For some this lack of regulation makes the market full of all kinds of possibilities. It cannot be disputed that NFTs pose a very lucrative opportunity for Indian artists, auction houses and countless other stakeholders.
And now for some very exciting news: Amitabh Bachchan has decided to launch his own set of NFTs, making him the first person in Bollywood to do so. These will revolve around his own life and include things like an autographed poster of Sholay, a recitation of his father's poems and other iconic moments from his glorious career. Can't speak for others but we can't wait for November!
Create your own NFT using OpenSea:
It is hard to believe but almost anything you can think of, can be created into a NFT. You'll need a Ethereum wallet and some Ether cryptocurrency to cover the gas fees. NFTs created on the Ethereum blockchain can then be traded on any of the platforms mentioned above – here's how you can do it:
 Step 1: Visit the OpenSea website, and link your MetaMask (crypto) wallet.
Step 2: Upload your artwork, its name and description. Don't forget to add a royalty percentage!
Step 3: Your NFT is ready! Now to make it available, add a listing price and selling method and wait for the bids to come in!
Previous
September 24, 2021
---