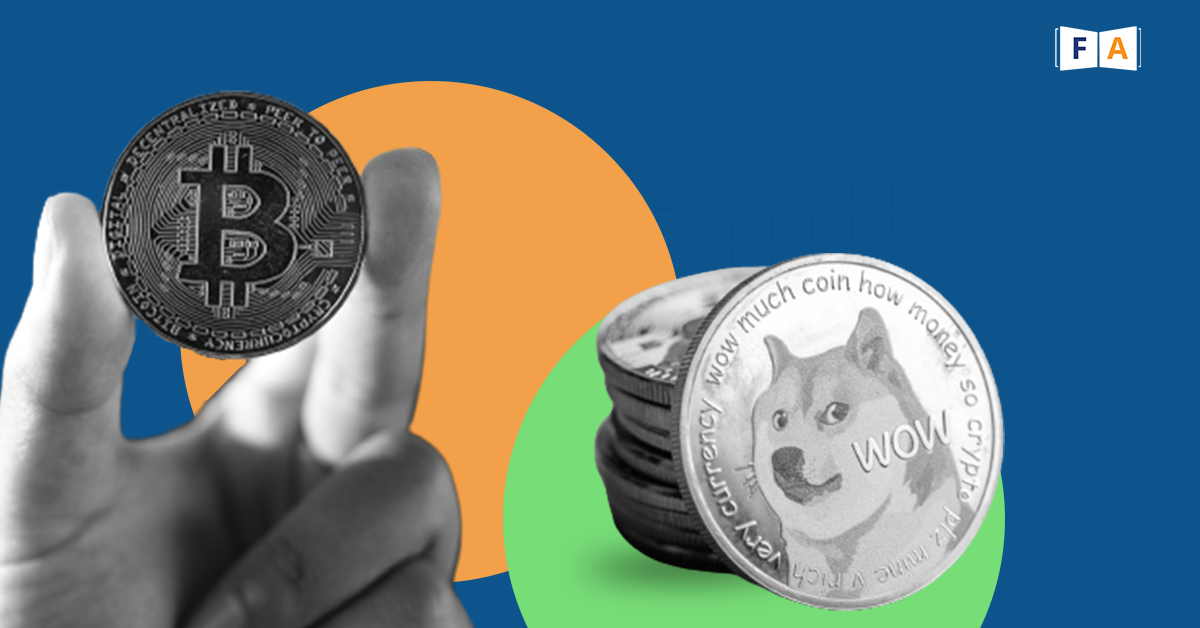 Crypto 101: A beginners guide
FinLearn Academy
What is cryptocurrency?
Cryptocurrency is a virtual currency that uses cryptography (the art of solving codes) and is usually based on blockchain technology. 
PwC defines it as "a medium of exchange, such as the US dollar, but digital and one that uses encryption techniques to control the creation of monetary units and to verify the transfer of funds."
It does not exist in a physical form and is not controlled by a central authority. They use decentralized control instead of a centrally-backed digital currency (like currency issued by the RBI). Thus they are immune to government interference or manipulation. 
How is it affecting our environment?
The bitcoin mining process requires huge amounts of energy – 121 Terawatt-hours per year, which is more than the entire country of Argentina. The energy consumption of Ethereum can be compared to the country of Qatar. 
Each transaction is stored by a network of miners (instead of in a single database). They are incentivized to use specialized computers to record these new blocks – which can be done by entering into a computational race by solving new cryptographic puzzles. What's interesting is the energy consumption will keep increasing as the price increases since the mathematical equation to compute will keep getting tougher. 
This energy demand is being met through fossil fuels, especially coal, and can have hugely damaging effects on carbon dioxide levels and climate change. 
In addition to this, the bitcoin network alone generates 11.5 kilos of e-waste every year as the hardware keeps getting obsolete and cannot be reused. 
An important point to note here is that the story is not the same for all cryptocurrencies – some actually don't require any mining at all. (like the ones on blockchains like EOS and Cardano)
What's the hype?
Much of the interest in cryptocurrency has come from speculators, who trade for profit and drive prices upwards. 
However, some also see it as a currency of the future – and want to buy it before it becomes more valuable. Adding to the appeal is the fact that it is not controlled by a central authority. 
Is it a good investment option?
Investors look at crypto as merely a speculative instrument, and not a real investment. For them to generate a return, someone has to pay more money for them than you did (since they don't generate any cash flows). Even as a currency, it does not deliver since a currency needs stability for the marketplace to quote a fair price. It's volatility hinders its own growth to a large extent. Say that the expectation is that a particular crypto will be worth a lot in the future – people will then be reluctant to sell it today thus making them less viable as a currency. 
Warren Buffet, a legendary value investor, has often compared crypto to cheques since they primary function they both perform is transferring money. In his words, 
"It's a very effective way of transmitting money and you can do it anonymously and all that. A check is a way of transmitting money too. Are checks worth a whole lot of money? Just because they can transmit money?"
Some popular cryptocurrencies include:
Bitcoin – BTC

Ethereum – ETH

Stellar – XLM

Binance Coin – BNB 

Cardano – ADA

Dogecoin – DOGE
What is blockchain?
At its most basic, a blockchain is a list of transactions that anyone can view and verify.
Unlike traditional databases, blockchain is a database that stores data in 'blocks' and then 'chains' them together. 
Imagine a network of blocks filled with data. When new data is inputted, it is added to the block. Once the block is full, it is chained to the previous block and a new block begins. 
Features:
Transactions are stored in chronological order.

It is decentralized – no particular individual or group holds control.

It is immutable – transactions are permanents and can be viewed by everyone.
How can it be used?
Blockchain is most commonly used for its application in cryptocurrencies. 
In the banking industry, it can be used to increase efficiency (for example it can reduce the processing time of a cheque to ten minutes) and security of transactions.  
However, it is gaining popularity for other functions as well. The food industry has adopted blockchain technology to trace food products from source to destination. The Healthcare sector is leveraging the technology to securely store patient's medical records, accessible only with private keys.
Various other uses include those in the supply chain, smart contracts, e-voting, etc. 
Pros:
No Scope for Error – minimal human intervention.

Decentralization – not stored in a central location and safe from hackers.

No Associated costs – eliminate middlemen like banks that charge credit card fees

Speed – can be processed in less than 10 minutes

Secure and Transparent – anyone can view the transactions
Cons:
Technology cost – immense power requirements

Scope for illegal transactions – hides user identity

Regulation – ultimately at the government's mercy.
What is Bitcoin? (BTC)
Bitcoin is the world's first and currently the largest cryptocurrency.
History:
 It was first proposed in 2008 by its creator Satoshi Nakamoto. (Fun Fact: Till date, there is no information on who he is. In Fact, many believe that the name is purely a pseudonym for the individual or group that created the coin) 
In 2009, the public was granted access to the software. However, at that time BTC was only mined, noone had traded it for something tangible. This process of mining and creating it on the blockchain continued for a while until an eventful day which will be known as Bitcoin Pizza Day.
On May 22, 2010 a programmer traded 10000 bitcoins for two pizzas, in a move that ultimately led to the price discovery. Had he controlled his pizza craving, those Bitcoins would have been worth $389 million (roughly Rs. 2,890 crores) today. 
People were introduced to Bitcoin's volatile nature for the first time in 2013 when its price crashed. Bitcoin had breached the $1,000 (roughly Rs. 74,380) mark by then, but the price began to quickly slide to around $300 (roughly Rs. 22,310).
In 2014 the world's then-largest crypto exchange suddenly shut down, taking with it 850000 coins. But it managed to recover soon as by 2017, BTC had touched the $10,0000 mark.
What's the current scene?
Bitcoin nearly quadrupled during the pandemic, reaching $28000 at the end of 2020. In 2021, on one hand, it saw the support of influencers like Elon Musk, but on the other hand, received some hard-hitting press about its unsustainable energy consumption. 
In what sounds like huge validation for the crypto community, El Salvador has approved bitcoin to be legal tender. Things don't look so good back home though, as the RBI has maintained its skeptic stance on the asset. 
China (which produced half of the world's bitcoin until recently) in a huge move has decided to ban payment companies and other financial institutions from indulging in any cryptocurrency transactions May 2021 onwards. To add to that, it has also taken a strong stance against speculative cryptocurrency trading. This has delivered a huge blow to the crypto industry in general.  As a result of this massive clampdown, many big mining companies are moving out of the country with their systems — including computers that are the most crucial part of the mining process.
Different exchanges to trade cryptos in India 
What are the industry stats for these exchanges? Volume, Number of Participants, Demographics
Basic Methodology to analyse cryptos – why the different cryptos are moving – what is the rationale and can you make an investment thesis for one over the other?
Can you analyse cryptos on a Technical Analysis Chart? If yes, how should one proceed?
What have various global leaders said about cryptos? There will be some yoying (back & forth) on their statement – ex- Elon Musk & the Tesla acceptance & non-acceptance of cryptos —
Go in-depth on DOGE – What is the story behind it, how it got hyped because of Twitter Banter
Crypto exchanges in India:
1. CoinDcX:
CoinDCX is one of India's leading cryptocurrency trading platforms founded in 2018. They offer almost immediate fiat-to-crypto conversion facilities. In a mere 3 years, they have managed to onboard more than 4 million users. They believe their competitive advantage to be their advanced trading terminal that outperforms the competition in a huge way and can process a million transactions per second. It is also India's first cryptocurrency unicorn. 
Currently, its 24-hour trading volume is $4.82 million, and it lists 52 cryptocurrencies. 
2. WazirX
WazirX is currently India's largest crypto-trading platform. It is a subsidiary of Binance Holdings (the largest crypto exchange in the world by volume). It has over 400,000 users and also has its own toker – WRX. Their main aim is to increase transparency and ease of use for all crypto transactions. The competitive advantage here is their P2P model which allows users to trade with one another while offering high liquidity. They have also recently joined the NFT party.
Currently, its 24-hour trading volume is $124.24 million, and it lists 173 cryptocurrencies. 
3. CoinSwitch Kuber:
Next on the list is Coinswitch Kuber with over 10 million users in just over a year since launch. The platform has seen a huge demand from the millennial population (owing in parts to campaigns like the Indian Premier League) with 75% of its investors belonging to age 18-35. 
Previous
September 28, 2021
---