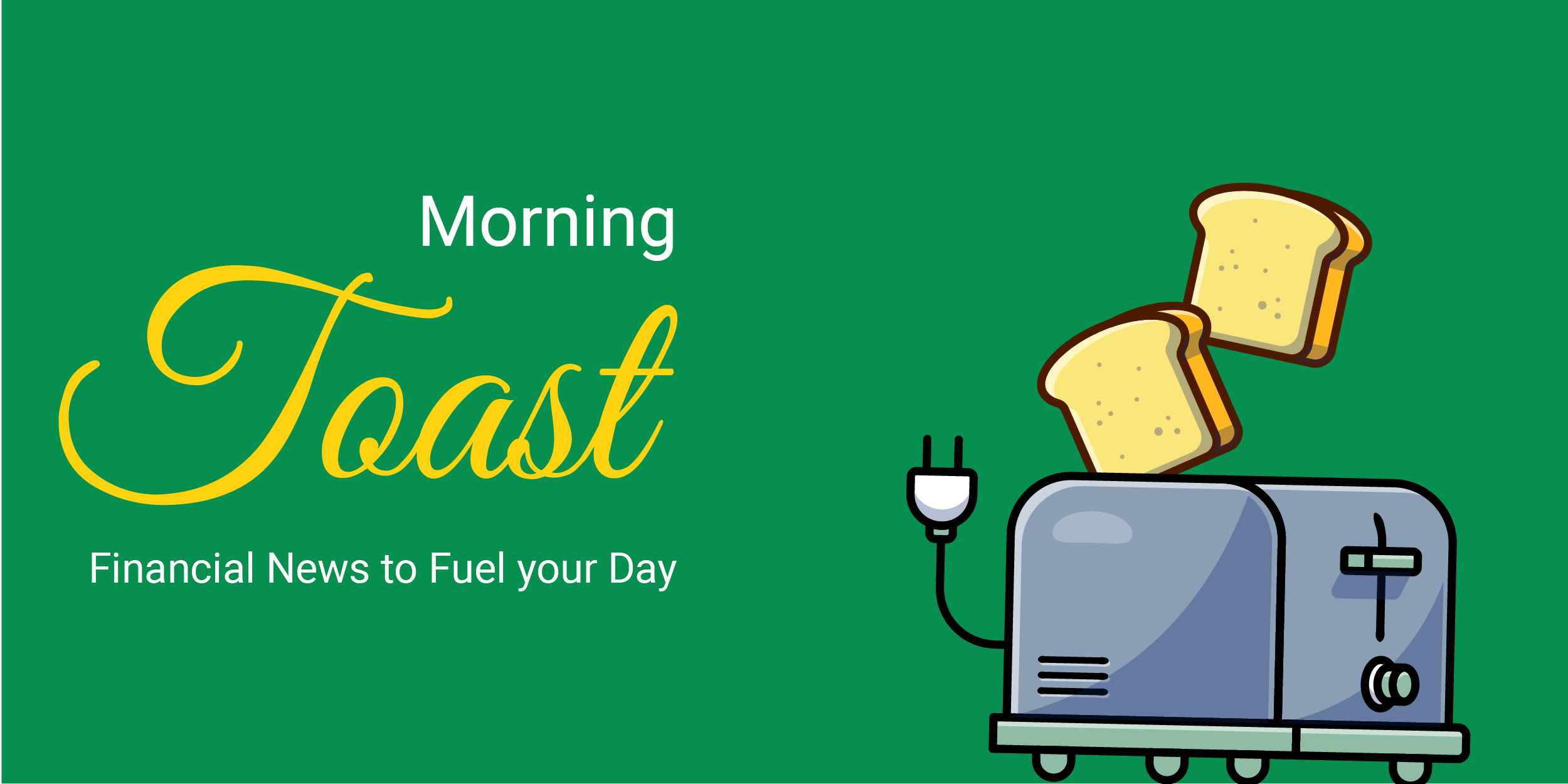 TVS Motors Doubles Down on EV Agenda
Aastha Tiwari
Yesterday's Market Performance

Nifty: 18114.90 I 63.20 (0.35%)
FII Sell Net: INR 2,697.70 Cr
DAX: 15,542.98 I 70.42 (0.46%)
Sensex: 60821.62 I 101.88 (0.17%)
DII Buy Net: INR 1,029.97 Cr
FTSE: 7,204.55 I 14.25 (0.20%)
---
Howdy Toasters!
In today's issue of the Morning Toast, we discuss: 
TVS Motors delivers strong quarter: Net profit rises 41% YoY
Hindustan Petroleum (HPCL) at key juncture on chart
Results Preview
An education concept to keep you chugging along
---

TVS Motors delivers strong quarter while doubling down on EV Agenda 🧐
Revenue grew 22% YoY to INR 56.2 Bn, due to a 39% jump in spare part sales (11% of sales) and reinstatement of export incentives (one-time benefit)

Exports increased by 63% to INR 18.3 Bn (improving macros in Latin America & Africa driving demand

From a bottom-line perspective, the company reported EBITDA margin expansion of 0.7% on a YoY basis, to 10%; commodity prices continue to rise, and the company plans to offset cost inflations through price hikes (taken 1.1% during October) and product premiumization

Domestic 2W market outlook is positive, with premium motorcycles/scooters expected to outperform ahead; further, the company expects healthy demand from export markets (Latin America & Africa)
Interesting! Tell me more? EV Agenda, New Product Launches, Outlook? (Yesss!) 
TVSL Board approved the incorporation of a wholly-owned subsidiary to undertake the Electric Mobility Business; capitalized with an initial investment of INR 10 Bn, the company has set up a dedicated 500 member R&D team and manufacturing facility with a monthly capacity of 10,000 units (operational in Jan'22)

The company currently sells iQube electric scooters, in 33 cities in the country, and is planning to increase distribution to over 1000 cities pan-India; the increase in production is down the ease in semiconductors

The company launched two new products during the quarter, Raider 125 CC & Jupiter 125 CC Motorcycle, with both entrants receiving a positive response

Owing to stronger revenue outlook (FY22-24E), including EV Agenda, Spare Part Sales, re-start of Export markets, the company is projected to record 13% / 27% Revenue / Earnings CAGR over FY22-24E (Source: Street estimates)
Keep a track??
---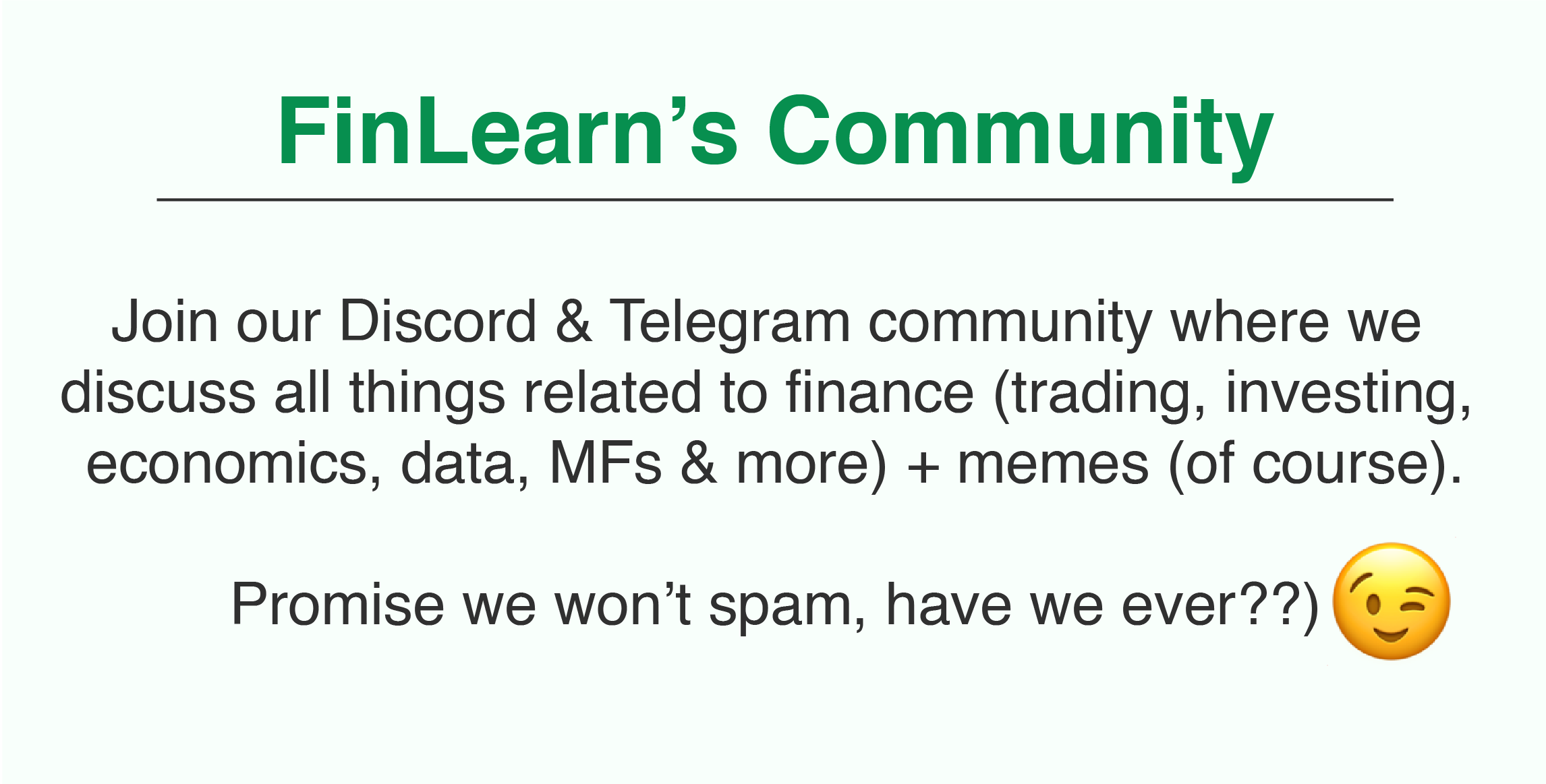 Like our news coverages?😍 Become a part of our fam, subscribe to our newsletter. Subscribe here
---

Hindustan Petroleum (HPCL) at key juncture on chart 🧐
Analysing HPCL on a weekly time-frame (over 60 weeks), indicates that the stock has been getting continuous rejections from 340 levels (view chart below)

HPCL has been in a year long resistance, at INR 340, and is currently trading close to this level, with the stock in a sideways momentum for the better part of 3 years

Prices have made a hanging man (bearish reversal) candle near the resistance level which can be considered a negative development, with the formation of the next candle critical in defining the upcoming trend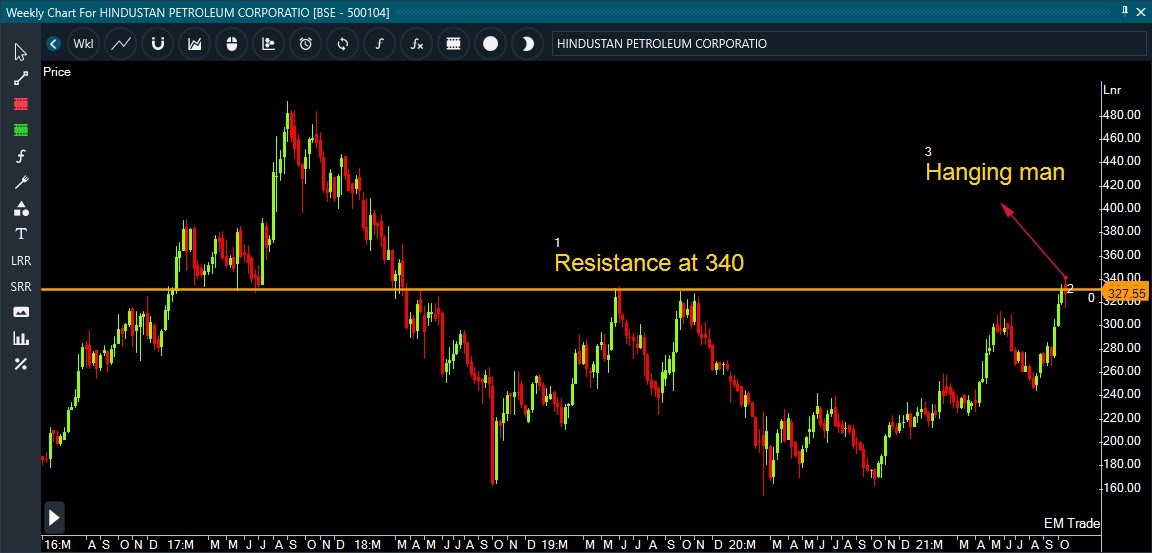 Interesting! Second confirmation? What other tools can we use? (Great q bro)  🛠🤔
Let's analyse the chart on a Weekly time frame, using some Harmonic Trading principles

HPCL has been in a strong trend since April, with the stock rallying  from 220 to 340; the rally has taken a Bearish ABCD Harmonic pattern on the chart (see below image)

Point C has retraced 70.7% of AB Leg and Point D has completed near 141% Fibonacci projection of BC Leg; moreover, AB leg and CD leg have taken approx. the same time to form (9 weekly candles), indicating that the pattern is insync with Ratio and time

The Potential Reversal Zone (PRZ) is placed at 333-340 zone, with the stock likely to witness profit booking if the price doesn't break and sustain above the PRZ

Alternatively, if the prices continue in the current trend, status quo will be maintained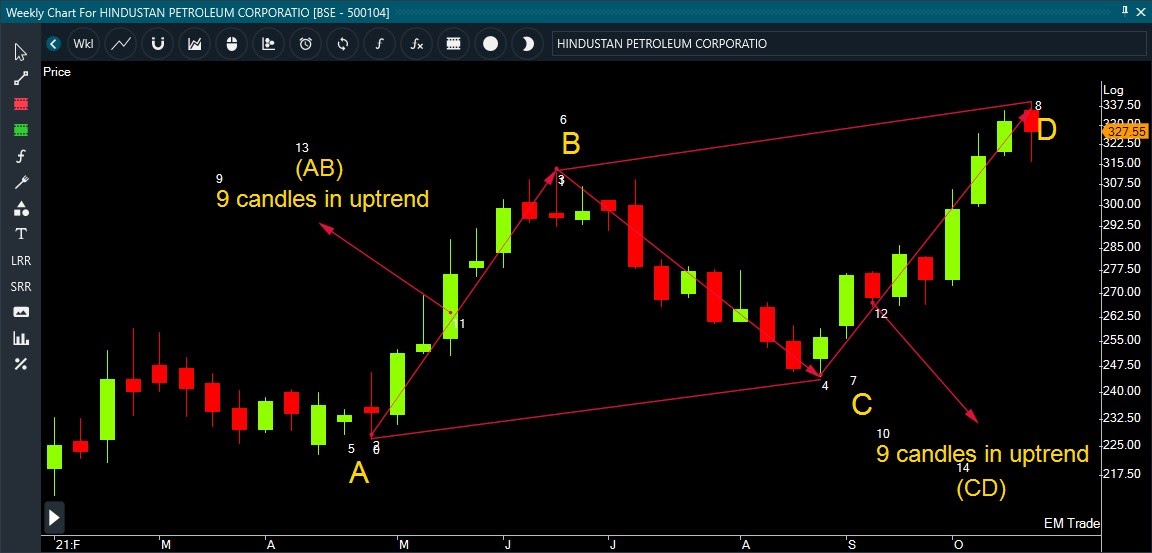 Interesting! Final thoughts? 🤨
The constant accumulation has led to a steady uptrend (last couple of months) which led to the important resistance getting tested multiple times making it weaker and with the help of harmonics, we get a clear picture about the direction of the stock while safeguarding us against possible traps

We started on a weekly time-frame with overall price action and trend analysis and took second confirmation on a daily time-frame, using bespoke Harmonic Trading Principles
In case you wish to learn more on Harmonic Trading Principles, check out Trading Harmonic Patterns with Technical Analysis by Rohan Shah (check here) 
---
What else caught our eye? 👀
Razorpay launches tokenization solution 
Razorpay launches a tokenization solution in partnership with Mastercard, RuPay and Visa- 'Razorpay TokenHQ'.
This tokenization solution will allow the end-customers to have the convenience of their saved card transactions with added security in accordance with RBI guidelines.
The guidelines disallow businesses, payment aggregators, and acquiring banks from storing customers' credit/debit/prepaid card information.
IEX jumps to all-time high 
Indian Energy Exchange jumped 20% to a record high after the announcement of its 2:1 bonus share plan.
The company reported a 68% jump in standalone net profit at Rs 78 cr for the Sep quarter as compared to Rs 46 cr in the year-ago period.
Over the past month, Indian Energy Exchange's share price has risen close to 65%
---

Saturday, 23rd October: ICICI Bank
Monday, 25th October: Coforge, Colgate-Palmolive, HDFC AMC, Indus Towers, Kansai Nerolac, Ramco Cements, SRF, Tech Mahindra
---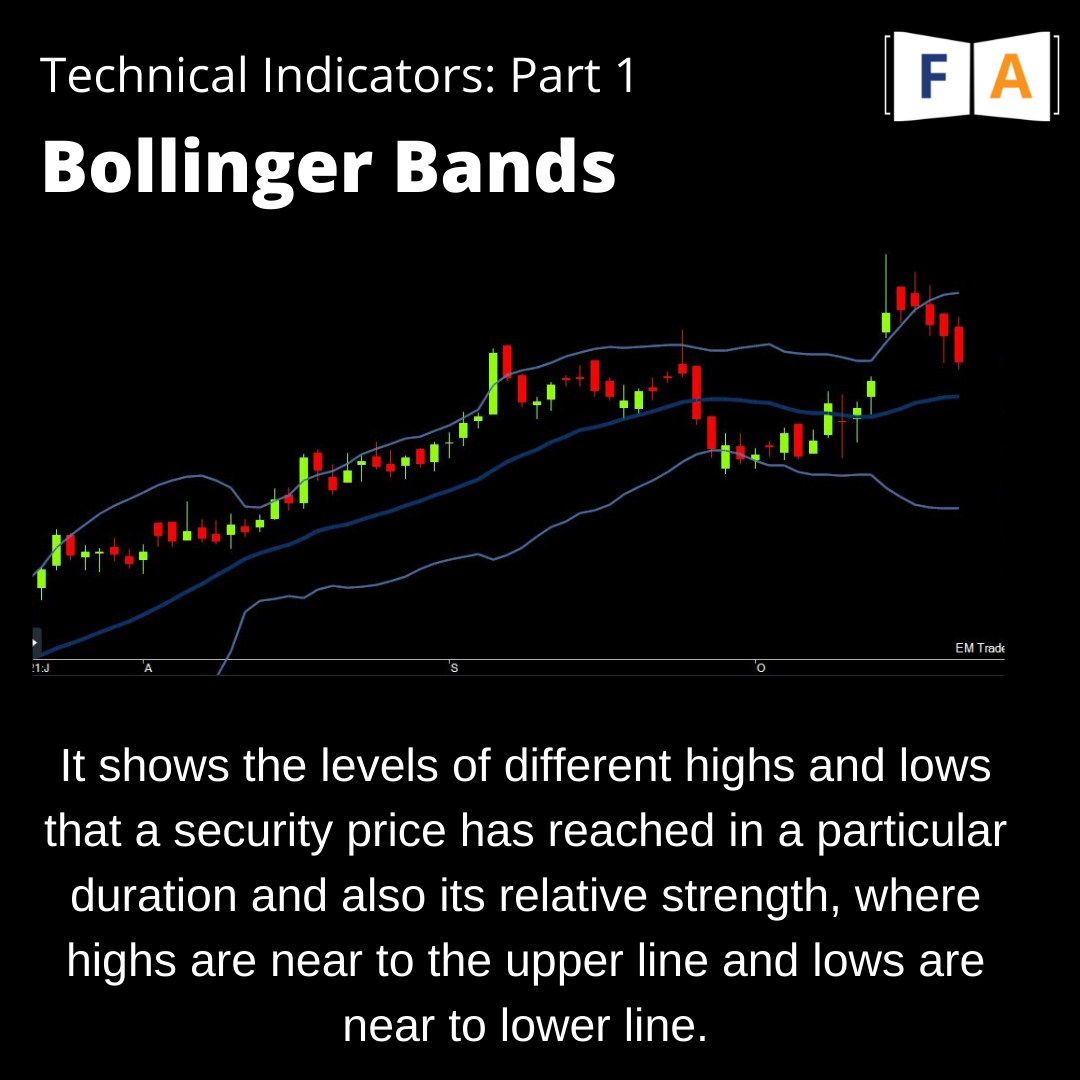 Check out our website "FinLearn Academy" to know more details on various trading & investing topics.
---
We'd love to hear your thoughts on our newsletter. Please take this simple survey and share your valuable feedback with us.
---